Week 22: Strong Bearish Projection
The slight bullishness of last week turned out to be incorrect as the S&P500 ended down 2.78 points for the week. This week however is showing a relatively strong bearish sentiment:
Would you guess that the S&P 500 index will move higher or lower next week? (from Monday's open to Friday's close; February 24-28)
Higher: 41.2%
Lower: 58.8%
The difference of 17.6% is relatively large and the highest difference we've seen so far on "Lower" dominant weeks.
The confident levels thought were relatively close again this week.
Avg Confidence: 67.1%
Confidence Higher: 68.6%
Confidence Lower: 66.0%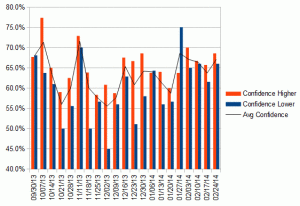 The standard first open-ended question was:
What economic, political, or other news and events are you expecting to happen next week (February 24-28) that might have a positive or negative effect on the markets?
This week traders mentioned a variety of different things, including the conflict in Ukraine, commodities, and oil.
Also, one user is not enjoying the recent bull market…
"I've been wrong on my sentiment for a pullback of merit for several months now. A one sided market and low vol is no fun for traders."
This week's unique open-ended topic was on the issue of cannabis legalization and generated quite a mixed reaction to the question:
The highly anticipated Season 2 of House of Cards was released on February 14th by Netflix (NFLX). Amazon (AMZN) has also been working on their own shows for their Amazon Instant Video service. Do you think creating original content is a good long term strategy for these companies? Do these projects make the stocks more attractive to investors?
This ended up being not a very controversial topic. Almost everyone who responded was positive on the effects of original content for Netflix and Amazon. However, one responder who was not so positive gave this comment…
"I subscribe to neither at this point, but I do believe Original content can be an attraction for viewers. Investors I'm not so sure. My longer term outlook for NFLX is lower due to competition, sky high p/e and no divs. AMZN higher once the profits are re-directed towards investors and not the build out."
Here are a couple other interesting article on the topic:
Netflix Inc. Hit Drama 'House Of Cards' Season Two Becomes Instant Success In China
Netflix, Inc. Investors Should Hope They Don't Own the Next HBO
Does House of Cards make Netflix more attractive to you as an investment? Please continue the discussion in the comments section below.