Analyze Your Trade Episode #44
Watch the following guests, along with David J. Kosmider, the creator of TimingResearch.com, discuss the symbol list for this week's Analyze Your Trade episode.
New! Listen to this episode as a podcast through iTunes, Podbean, Stitcher, Spotify, and more.
Lineup for this Episode:
– Dean Jenkins of FollowMeTrades.com (moderator)
– Larry Gaines of PowerCycleTrading.com
Episode Timeline (click the times below to watch that segment on YouTube):
0:00 – Introductions.
4:00 – XOM
6:30 – TSLA
11:40 – AMD
14:00 – AVEO
18:10 – FB
24:40 – IBM
26:50 – Individual trade ideas for the week.
40:40 – CDE
46:00 – MOV
48:10 – MU
50:30 – GE
53:10 – SAGE
56:20 – Closing statements.
Guest Special Offers:
From Dean: "Beyond the Noise" FREE Weekly Newsletter
From Larry: 7 Step Directional Trading Profits Formula Interactive Webinar
---
Other Partner Offer: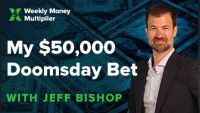 While SHOP dropped less than 6% that day, Jeff was able to show his members how he made over 70%, or a whopping $41,400 from that move. He's putting his money where his mouth is.
Click here to learn more.
---
Email Alerts
Make sure you don't miss all the future reports, show reminders, and bonus offers from TimingResearch, enter your email here:

By signing up you agree to receive newsletter and alert emails. You can unsubscribe at any time. Privacy Policies
---
AYT0807118