Crowd Forecast News Report #257
The new TimingResearch report for the week has been posted, you can download the full PDF report with the link below or you can read the full report in this post below.
Click here to download report in PDF format: TRReport082618.pdf
---
Question #1. Which direction do you think the S&P500 index will move from this coming Monday's open to Friday's close (August 27th to August 31st)?
(The order of possible responses to this question on the survey were randomized for each viewer.)
Higher: 66.7%
Lower: 33.3%
Higher/Lower Difference: 33.3%
Question #2. Rate your confidence in your answer to Question #2 by estimating the probability you have correctly predicted next week's market move.
Average of All Responses: 66.8%
Average For "Higher" Responses: 68.6%
Average For "Lower" Responses: 63.2%
Higher/Lower Difference: 5.5%
Responses Submitted This Week: 36
52-Week Average Number of Responses: 48.7
TimingResearch Crowd Forecast Prediction: 65% Chance Higher
This prediction is an attempt by the editor of this newsletter to use the full 4+ year history of data collected from this project to forecast a probability estimate for whether this week's sentiment is going to be correct and ultimately what the markets will do this coming week.
Details: Last week's majority sentiment from the survey was 57.1% Higher, and the Crowd Forecast Indicator prediction was 67% Chance Lower; the S&P500 closed 0.73% Higher for the week. This week's majority sentiment from the survey is 66.7% Higher with a greater average confidence from those who responded Higher. Similar conditions have been observed 20 times in the previous 256 weeks, with the majority sentiment being correct 65% of the time, with an average S&P500 move of 0.28% Higher for the week. Based on that history, the TimingResearch Crowd Forecast Indicator is forecasting a 65% Chance that the S&P500 is going to move Higher this coming week.

Raw Data Page (raw data files include full history spreadsheet and the above charts):
TimingResearch.com/data.
---
Full Weekly Results (full version of this chart available in the raw data spreadsheet for this week, "Date" field below lists the Monday of the week being predicted).
Overall Sentiment All-Time "Correct" Percentage: 66.8%
Overall Sentiment 52-Week "Correct" Percentage: 68.6%
Overall Sentiment 12-Week "Correct" Percentage: 63.2%
Only the previous 52 weeks of data are shown below, please download the raw data to see the full range of past data.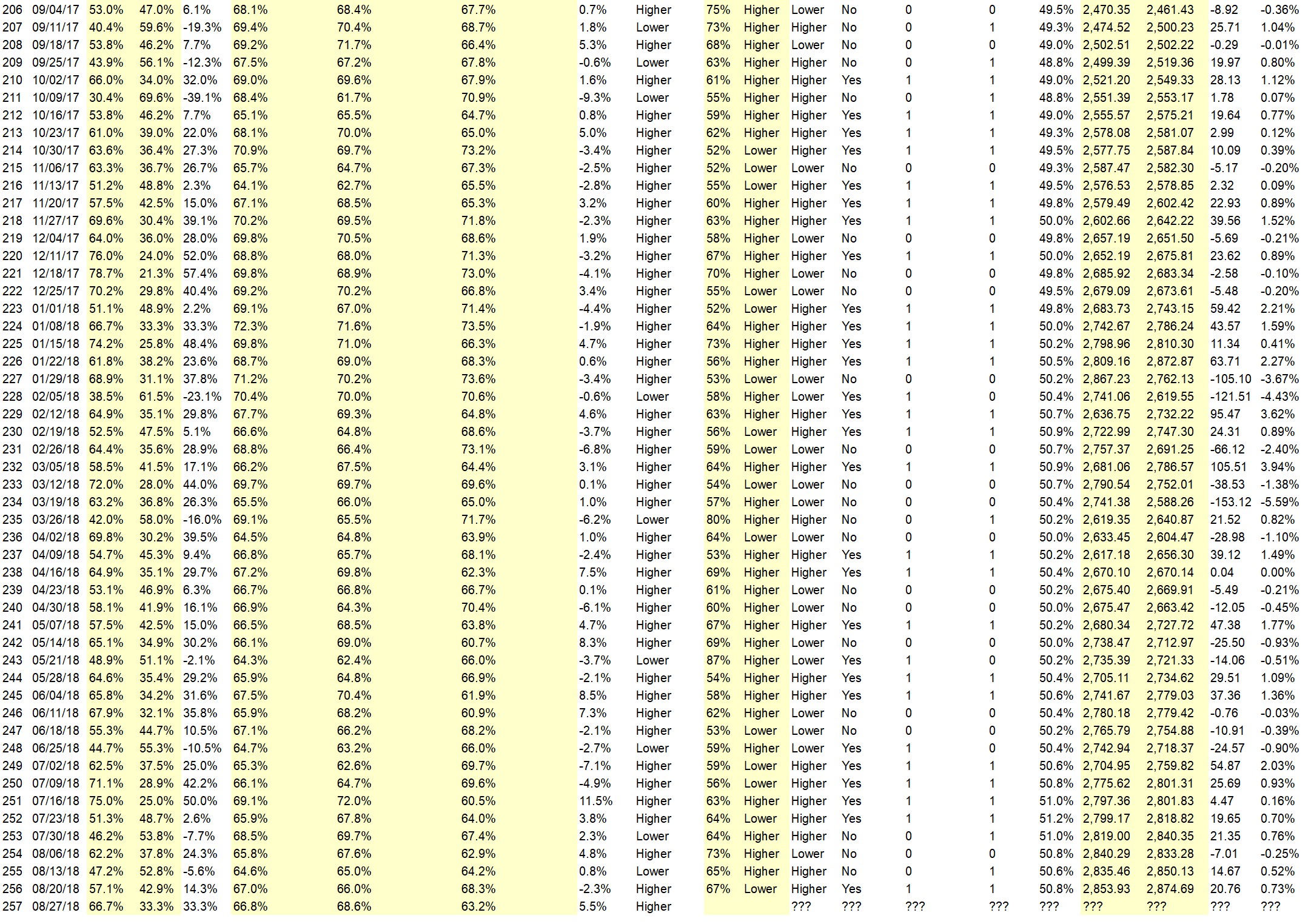 Weekly Reports Page: TimingResearch.com/reports
Raw Data Page: TimingResearch.com/rawdata
Current Survey Page: TimingResearch.com/currentsurvey
Any feedback: TimingResearch.com/contact
---
Email Alerts
Make sure you don't miss all the future reports, show reminders, and bonus offers from TimingResearch, enter your email here:

By signing up you agree to receive newsletter and alert emails. You can unsubscribe at any time. Privacy Policies
---
NOTE: The following open-ended answers are solely the opinions of the anonymous respondents to this survey. Responses are mostly unedited, but some have been reformatted slightly for to make them easier to read. Some irrelevant responses (e.g. "none"), or anything obviously fake, or copy and pasted responses have been omitted. All-caps responses have been changed to all lowercase. All responses for each week, unedited, are available in the raw data spreadsheets at TimingResearch.com/data.
Question #3. For your answer to Question #1, please share what specific reason(s) you think the S&P500 will be heading the direction you chose.
"Higher" Respondent Answers:
• Donald Trump ideas maybe help
• going with the trend
• In this final week of AUG, institutions will be re-balancing & window dressing their portfolios & SPX will grind higher to confirm the breakout & anticipate 1st week of Sept trading and 7 Sept NFP. With so many predicting a down Aug & an annual correction in Sept/Oct, the market is bound to go up instead. Seasonal predictions have turned out to be crap & if they happen, they are very temporary. I like all the talk about recession and fear. That is very bullish. USA will win the trade war!
• Weed stocks will continue to push it up
• Risky not to buy
• All the industry indexes are positives :-)
• Momentum and seasonality.
• dovish fed talk
• trending
• Last week, dips were being bought, especially on Friday. Looks like the up move will continue.
• The market (SPX) has broken out of the ATH resistance. Now the path of least resistance is higher into 2900 area.
• This week
• Its toppy folks!
"Lower" Respondent Answers:
• Not good at working out where market goes
• Trade debate, political uncertainty, vacations
• I think that the global situation with chinese tariffs and Iran and Turkey are all coming to a head.
• A topping formation is almost forming a slide down is due any day, likely Tue or even Monday.
• SEP..
• Back to school positive action. Retail traders can only help the continued momentum. Previous gold bottom ended up being a basement to a sub basement. The yellow metal may once again start its wall of worry rise even though Powell and crew say inflation is tame.
---
Question #4. Which trading platform or broker do you like the best for executing your trades?
• fidelity
• Stocks to trade platform Etrade for a broker
• TOS but it's not the bat you use, it's the person using the bat. It's not the cost of the commissions, it's the positions and money management for your trades that should be the focus. JPM may start commission free trades but how many errors are you going to make learning a new platform?
• TD
• Yours
• Profit able one if possible
• Interactive Brokers
• TOS
• Trade Station
• TD
• TD
• E*Trade
• There are lot of good trading platforms such as StreetSmart Edge (Schwab), Trade Station, Think or Swim, etc. It is up to a trader to chose his trading platform.
• tastyworks
• IG Index ans Saxo bank
• Ninjatrader Firetip of Ironbeam
• none they all have weaknesses that marginalize strengths
• Tastyworks.
---
Question #5. Additional Comments/Questions/Suggestions?
• A candidate can legally contribute unlimited amounts of his own money for his own election campaign even to obtain NDA's. Trumps payments to the kiss and tellers are totally legal. If the DEM's take the House, impeachment will not be brought and if brought will fail in the House and if passed will fail in the Senate. The DEM's are afraid that Trump is too successful. Tariffs are tough to endure but his actions are the right ones. Shame on all his predecessors who were too cowardly to do it.
• Oil surprisingly keeping a lid even though ability to withstand supply disruption is tight.
• I like your great survey and I request you to expand to more real traders to get their views.
---
Join us for this week's shows:
---
Crowd Forecast News Episode #194
This week's show will feature a discussion with the trading experts listed below about the most recent TimingResearch Crowd Forecast Newsletter report, where they think the S&P500 is headed, what they are watching for in the markets currently, and their best trading idea.
Date and Time:
– Monday, August 27th, 2018
– 1PM ET (10AM PT)
Moderator and Guests:
– Mike Pisani of AlphaShark.com & SmartOptionTrading.com (moderator)
– Jim Kenney of OptionProfessor.com
– Neil Batho of TraderReview.net
– Damon Pavlatos of FuturePathTrading.com
---
Analyze Your Trade Episode #47
When you register, you will be prompted to list the top 5 stocks that you are interested in trading. We will list the top 5 from all registrants and our experts will be prepared to offer their opinions on these trades.
Date and Time:
– Tuesday, August 28th, 2018
– 4:30PM ET (1:30PM PT)
Moderator and Guests:
– Michael Filighera of LogicalSignals.com (moderator)
– Christian Fromhertz of TribecaTradeGroup.com
---
Partner Offer:
In 2015, he claimed exactly $838,353 in capital gains. In four years – he turned $15,253 into $2,855,475. Watch Kyle Dennis' presentation:
"Learn the 3-Step Plan I Used to Turn $15,253 into $2,855,475 Trading Biotech Stocks!"