Crowd Forecast News Report #260
The new TimingResearch report for the week has been posted, you can download the full PDF report with the link below or you can read the full report in this post below.
Click here to download report in PDF format: TRReport091618.pdf
---
Question #1. Which direction do you think the S&P500 index will move from this coming Monday's open to Friday's close (September 17th to September 21st)?
(The order of possible responses to this question on the survey were randomized for each viewer.)
Higher: 51.4%
Lower: 48.6%
Higher/Lower Difference: 2.9%
Question #2. Rate your confidence in your answer to Question #2 by estimating the probability you have correctly predicted next week's market move.
Average of All Responses: 65.9%
Average For "Higher" Responses: 68.3%
Average For "Lower" Responses: 63.2%
Higher/Lower Difference: 5.1%
Responses Submitted This Week: 35
52-Week Average Number of Responses: 47.6
TimingResearch Crowd Forecast Prediction: 60% Chance Higher
This prediction is an attempt by the editor of this newsletter to use the full 5 year history of data collected from this project to forecast a probability estimate for whether this week's sentiment is going to be correct and ultimately what the markets will do this coming week.
Details: Last week's majority sentiment from the survey was 57.6% Lower, and the Crowd Forecast Indicator prediction was 68% Chance Higher; the S&P500 closed 0.82% Higher for the week. This week's majority sentiment from the survey is 51.4% Higher with a greater average confidence from those who responded Higher. Similar conditions have been observed 96 times in the previous 259 weeks, with the majority sentiment being correct 60% of the time, with an average S&P500 move of 0.37% Higher for the week. Based on that history, the TimingResearch Crowd Forecast Indicator is forecasting a 60% Chance that the S&P500 is going to move Higher this coming week.

Raw Data Page (raw data files include full history spreadsheet and the above charts):
TimingResearch.com/data.
---
Full Weekly Results (full version of this chart available in the raw data spreadsheet for this week, "Date" field below lists the Monday of the week being predicted).
Overall Sentiment All-Time "Correct" Percentage: 51.2%
Overall Sentiment 52-Week "Correct" Percentage: 58.8%
Overall Sentiment 12-Week "Correct" Percentage: 72.7%
Only the previous 52 weeks of data are shown below, please download the raw data to see the full range of past data.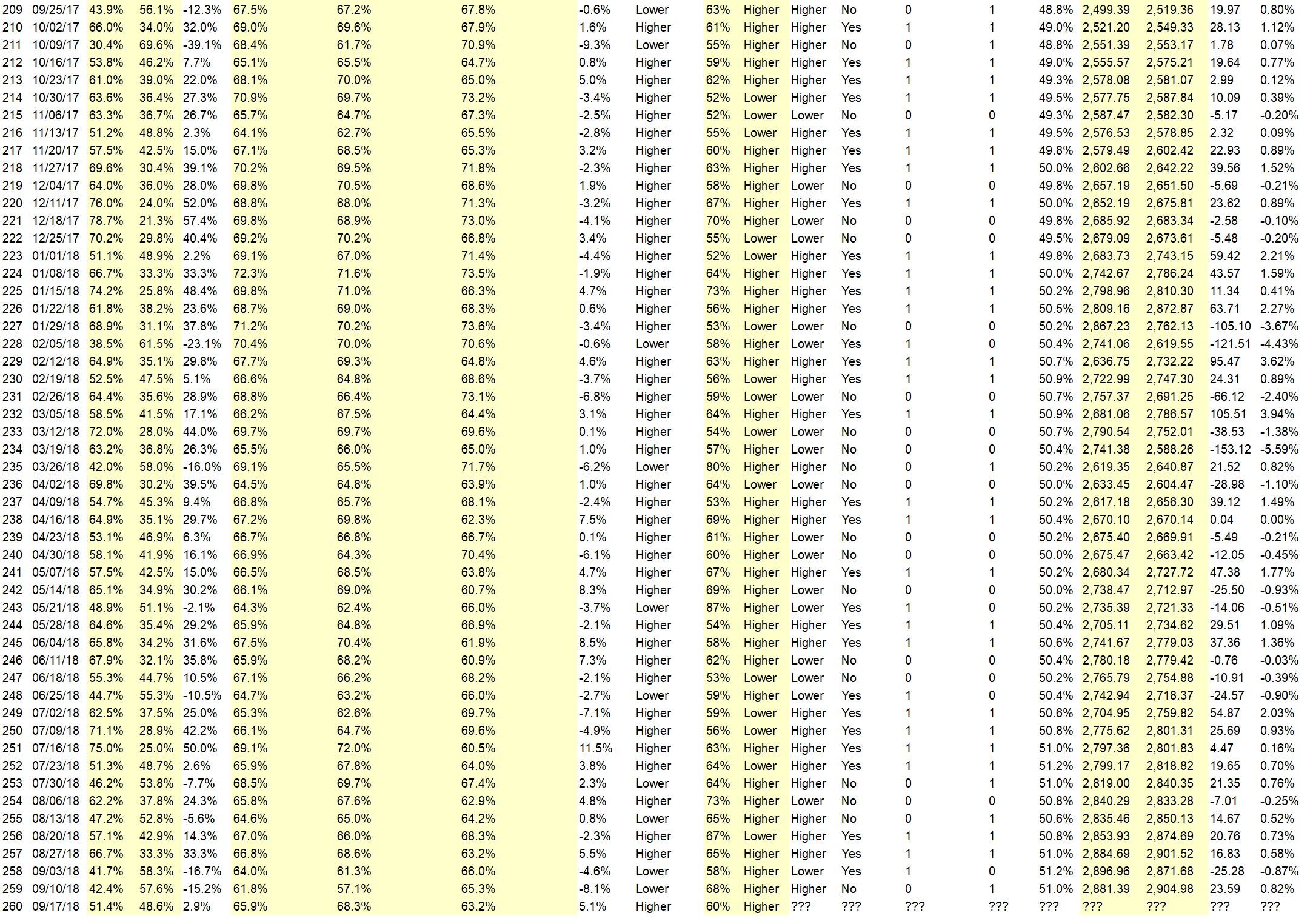 Weekly Reports Page: TimingResearch.com/reports
Raw Data Page: TimingResearch.com/rawdata
Current Survey Page: TimingResearch.com/currentsurvey
Any feedback: TimingResearch.com/contact
---
Email Alerts
Make sure you don't miss all the future reports, show reminders, and bonus offers from TimingResearch, enter your email here:

By signing up you agree to receive newsletter and alert emails. You can unsubscribe at any time. Privacy Policies
---
NOTE: The following open-ended answers are solely the opinions of the anonymous respondents to this survey. Responses are mostly unedited, but some have been reformatted slightly for to make them easier to read. Some irrelevant responses (e.g. "none"), or anything obviously fake, or copy and pasted responses have been omitted. All-caps responses have been changed to all lowercase. All responses for each week, unedited, are available in the raw data spreadsheets at TimingResearch.com/data.
Question #3. For your answer to Question #1, please share what specific reason(s) you think the S&P500 will be heading the direction you chose.
"Higher" Respondent Answers:
• Banking is stable for now maybe according to Ole Miss
• Tariffs & trade are keys to the degree & direction but the market wants to go up even when it sells off a little because of anticipated strong earnings & a strong economy in spite of hurricane aftermath. With monthly option expiration, triple witching, FED announcements, it's like getting answers to this current chapter relieving some uncertainty. The economy is growing, the market is rising, you don't want to miss the bus & soon we'll have an even more divided govt which the market likes..
• Yes
• usa earnings remain robust
• history
• Going with continuation of last week's move up. The 50-day moving avg has been offering good support.
• Friday was triple witching, with that behind us, trade talks are progressing albeit slowly, no real earnings or major news releases we should start the final climb to the end of the year. The election in November will create more distraction but the big event is not that Republicans lose control but new financially responsible ind. may breathe fresh air into the stagnant halls. Also with Canada charging to legal sells of cannabis and many more states voting to approve, things sb interesting
• more $$$ fowing back into the markets
• Trend continues
• Charts don't look finished to upside. S&P previous all-time high is a magnet. BUT I'm only 60% confident – because all the fundamentals say it's already way too high. Long-term the fundamentals eventually matter. Don't they??
"Lower" Respondent Answers:
• Market overbought
• tariffs
• Uncertainty caused by Trump's trade war.
• The S&P is again reaching overbought as it makes a push towards new highs. The week may start higher as new highs are achieved but without substantial reasons for the move it will likely attract major profit taking.
• trade wars
• lower since I'm long
• EW
• Seasonal downturn continues. September will be unforgiving.
• Worst six months historically
• Market topped over summer Oct selloff
---
Question #4. What are the most important mental and emotional characteristics for traders to develop?
• Follow your own research
• Profit to liquid asset maybe I guess
• stops and the reason for the trade? Do not lose money.
• No need to trade everyday.
• Accept that the market is the boss, is unforgiving and that your intuition is probably wrong. Accept the consequences of every trade and trade small enough that you can deal with the results. Always know why you're making a trade, have a plan and a backup plan. Remember that a long-term trade is often a short-term trade gone wrong. Get enough education to trade effectively. If hope and prayer are parts of your strategy, stop trading and get a better job.
• patience and perseverence
• Don't panic
• For me, it's to take a small loss before it turns into a large loss. And then to move on. Don't try to make the next trade make up for the previous loss. Instead, just trade your system.
• patience
• Be observant. Act on facts. Charts and news rule .
• learn how to make a decision.
• money managment
• Most importantly, don't let emotion take hold.
---
Question #5. Additional Comments/Questions/Suggestions?
• Make more by trading less.
• All panelists should be on camera.
• show in table form and graphically how predictions compare to actual market performance. THIS IS A MUST!
---
Join us for this week's shows:
---
Crowd Forecast News Episode #196
This week's show will feature a discussion with the trading experts listed below about the most recent TimingResearch Crowd Forecast Newsletter report, where they think the S&P500 is headed, what they are watching for in the markets currently, and their best trading idea.
Date and Time:
– Monday, September 17th, 2018
– 1PM ET (10AM PT)
Moderator and Guests:
– Adrienne Toghraie of TradingOnTarget.com (first time guest!)
– Dave Landry of DaveLandry.com (moderator)
– Jody Samuels of FXTradersEdge.com
– Simon Klein of TradeSmart4x.com
– John Thomas of MadHedgeFundTrader.com
---
Analyze Your Trade Episode #49
When you register, you will be prompted to list the top 5 stocks that you are interested in trading. We will list the top 5 from all registrants and our experts will be prepared to offer their opinions on these trades.
Date and Time:
– Tuesday, September 18th, 2018
– 4:30PM ET (1:30PM PT)
Moderator and Guests:
– Oliver Schmalholz of NewsQuantified.com
– Jim Kenney of OptionProfessor.com
---
Partner Offer:
In 2015, he claimed exactly $838,353 in capital gains. In four years – he turned $15,253 into $2,855,475. Watch Kyle Dennis' presentation:
"Learn the 3-Step Plan I Used to Turn $15,253 into $2,855,475 Trading Biotech Stocks!"