Crowd Forecast News Report #267
The new TimingResearch report for the week has been posted, you can download the full PDF report with the link below or you can read the full report in this post below.
Click here to download report in PDF format: TRReport110418.pdf
---
Question #1. Which direction do you think the S&P500 index will move from this coming Monday's open to Friday's close (November 5th to 9th)?
Higher: 70.6%
Lower: 29.4%
Higher/Lower Difference: 41.2%
Question #2. Rate your confidence in your answer to Question #2 by estimating the probability you have correctly predicted next week's market move.
Average of All Responses: 67.2%
Average For "Higher" Responses: 66.5%
Average For "Lower" Responses: 69.0%
Higher/Lower Difference: -2.5%
Responses Submitted This Week: 34
52-Week Average Number of Responses: 45.3
TimingResearch Crowd Forecast Prediction: 58% Chance Higher
This prediction is an attempt by the editor of this newsletter to use the full 5 year history of data collected from this project to forecast a probability estimate for whether this week's sentiment is going to be correct and ultimately what the markets will do this coming week.
Details: Last week's majority sentiment from the survey was 68.4% Lower, and the Crowd Forecast Indicator prediction was 67% Chance Higher; the S&P500 closed 1.51% Higher for the week. This week's majority sentiment from the survey is 70.6% Higher with a greater average confidence from those who responded Lower. Similar conditions have been observed 26 times in the previous 266 weeks, with the majority sentiment being correct 58% of the time, and with an average S&P500 move of 0.29% Lower for the week (one of those rare conditions were the number of times the S&P500 moved Higher under the selected conditions was greater but the average of all the moves was Lower). Based on that history, the TimingResearch Crowd Forecast Indicator is forecasting a 58% Chance that the S&P500 is going to move Higher this coming week.

Raw Data Page (raw data files include full history spreadsheet and the above charts):
TimingResearch.com/data.
---
Full Weekly Results (full version of this chart available in the raw data spreadsheet for this week, "Date" field below lists the Monday of the week being predicted).
Overall Sentiment All-Time "Correct" Percentage: 51.5%
Overall Sentiment 52-Week "Correct" Percentage: 60.8%
Overall Sentiment 12-Week "Correct" Percentage: 72.7%
Only the previous 52 weeks of data are shown below, please download the raw data to see the full range of past data.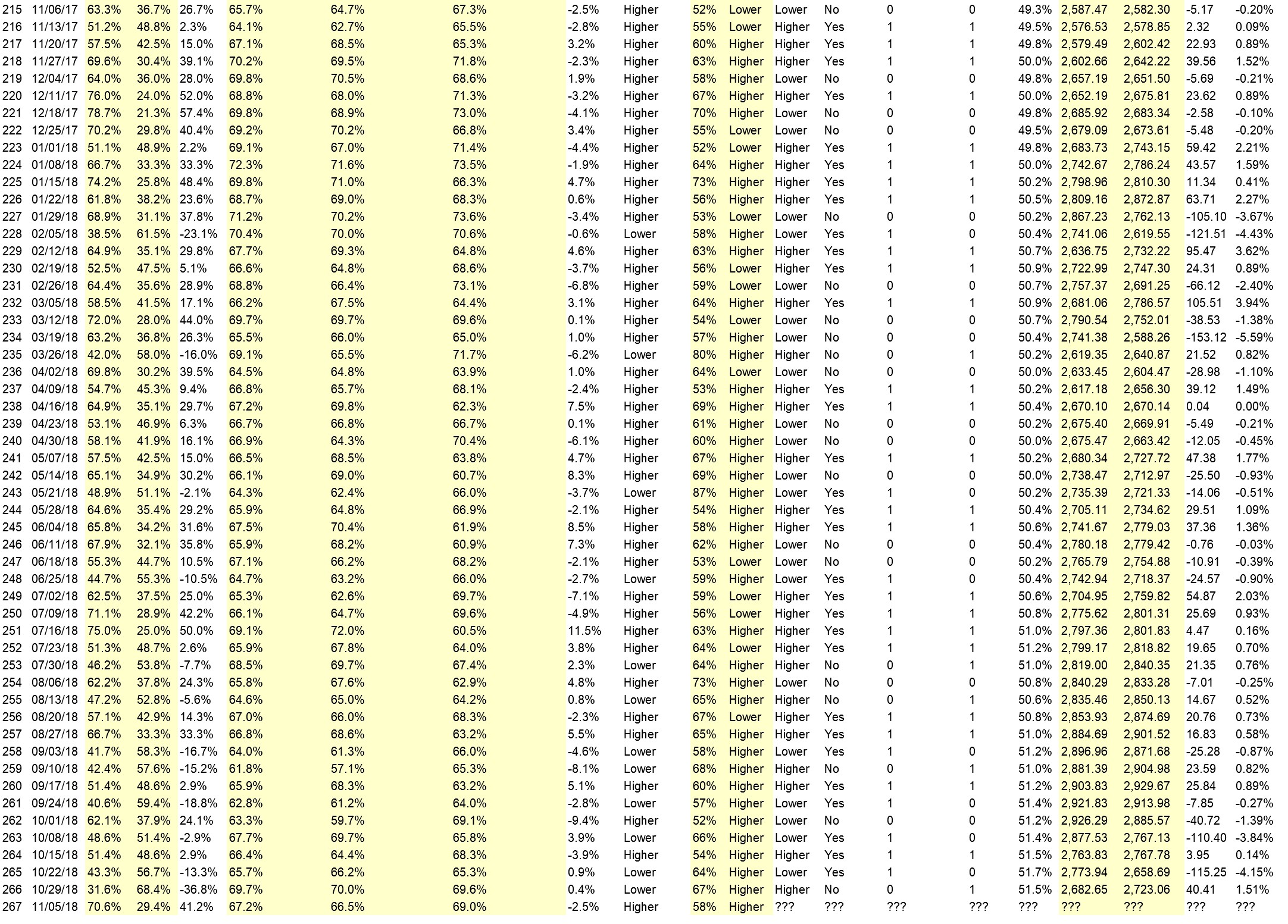 Weekly Reports Page: TimingResearch.com/reports
Raw Data Page: TimingResearch.com/rawdata
Current Survey Page: TimingResearch.com/currentsurvey
Any feedback: TimingResearch.com/contact
---
Email Alerts
Make sure you don't miss all the future reports, show reminders, and bonus offers from TimingResearch, enter your email here:

By signing up you agree to receive newsletter and alert emails. You can unsubscribe at any time. Privacy Policies
---
NOTE: The following open-ended answers are solely the opinions of the anonymous respondents to this survey. Responses are mostly unedited, but some have been reformatted slightly for to make them easier to read. Some irrelevant responses (e.g. "none"), or anything obviously fake, or copy and pasted responses have been omitted. All-caps responses have been changed to all lowercase. All responses for each week, unedited, are available in the raw data spreadsheets at TimingResearch.com/data.
Question #3. For your answer to Question #1, please share what specific reason(s) you think the S&P500 will be heading the direction you chose.
"Higher" Respondent Answers:
• 1.US and China trade war has positive outlook according to president Trump. 2. The midterm election is getting close to be done and over with. 3. Traders sentiment is positive.
• bull melt up
• Do for a rebound
• 1. Seasonality 2. GOP retains and improves number of seats in both the House and Senate.
• S&P Making a rally attempt from oversold condition
• Pull back done. election elation will take over
• November is an up month
• Bounce up and cooling rhetoric.
• history
• buying
• Best six months of the year historically and buybacks
• There is massive volatility but eventually prices may go back to a minor high.
• Mid term elections usually +ve
• One of the uncertainties will be known…elections over.
• no blue wave
• I entered 50% confidence level higher because I think it will go BOTH higher AND lower. I think it will be all over the map until the end of the year.
"Lower" Respondent Answers:
• Trend reversal dead ahead
• Not enough buyers
• short signals from trend lines and indicators on the daily, weekly and monthly chart.
• Market trend down and short term trend top of pull back trend.
• Dems win house majority; Dow down 900 points
• Th downside correction continues as moving averages are penetrated.
• The S&P may have hit resistance on Friday morning, as then it fell most of the day. The strong jobs reports makes it more likely that the Fed will raise rates in Dec, which is should be a negative for the S&P.
• its between point 4 & point 5 on an Elliot wave; higher close + diminishing volume = no appetite for higher prices.
---
Partner Offer:
The Alpha Fibonacci Method works on any instrument, any time frame, and any platform with ultimate accuracy at trend inception and trend reversals.
You'll see how on this online training.

---
Question #4. What type(s) of trading do to focus on and why? Have you tried other forms of trading that did not work as well for you?

• Options. Buy & hold didn't work so well.
• option spreads.
• reverse toward a trend from a pull back and break out reversal of a pull back. sell options in high volatility and buy options in low volatility.
• long term investing, options
• Only focus on Basic Equities, day and swing trading. Sell options.
• Trend following. It flows with my lifestyle.
• day/news and B&H Investing my main successes Swing trading still a hit and miss :(
• Stock trading, usually for 2-5 day periods.
• counterintuitive
• Far out-of-money option selling might work well here with the increased volatility. Just need to make sure the options are FAR out-of-the-money. Like maybe two hundred points or so.
• options – most leverage
• Intraday and swing
• None really
• 1 and 2 worked well 1. Futures only now 2. Formerly options and mutual funds aggressive no loads. 3. Managed futures accounts did not work.
• Options. Short term gains were more predictable
• Very short term. Less than a minute is a good trade
• No
• Day Trading suits my personality. Would like to do some short term swing trading. 1-3 days
• the types of trading that i do are : 1) trend line on weekly and monthly charts. 2) combination of specific indicators – oscillators on daily charts, weekly charts and monthly charts.
---
Question #5. Additional Comments/Questions/Suggestions?
• have faith the market will move.
• look for pull back to close trade after 3 same direction days
• This is the most sensitive timing for markets
• Good luck.
• the trading that i do based on a combination of some specific indicators with specific settings, is extremely accurate in daily, weekly and monthly charts.
---
Join us for this week's shows:
---
Crowd Forecast News Episode #202
This week's show will feature a discussion with the trading experts listed below about the most recent TimingResearch Crowd Forecast Newsletter report, where they think the S&P500 is headed, what they are watching for in the markets currently, and their best trading idea.
Date and Time:
– Monday, November 5th, 2018
– 1PM ET (10AM PT)
Moderator and Guests:
– Sean Kozak of NeuroStreet.com (first time guest!)
– Lee Harris of EmojiTrading.com
– Rob Hanna of InvestiQuant.com & QuantifiableEdges.com (moderator)
---
Analyze Your Trade Episode #55
When you register, you will be prompted to list the top 5 stocks that you are interested in trading. We will list the top 5 from all registrants and our experts will be prepared to offer their opinions on these trades.
Date and Time:
– Tuesday, November 6th, 2018
– 4:30PM ET (1:30PM PT)
Moderator and Guests:
– Mike Pisani of AlphaShark.com & SmartOptionTrading.com
– Michael Filighera of LogicalSignals.com
– Jim Kenney of OptionProfessor.com
– Neil Batho of TraderReview.net
---
Partner Offer:
The Alpha Fibonacci Method works on any instrument, any time frame, and any platform with ultimate accuracy at trend inception and trend reversals.
You'll see how on this online training.