Crowd Forecast News Report #282
The new TimingResearch report for the week has been posted, you can download the full PDF report with the link below or you can read the full report in this post below.
Click here to download report in PDF format: TRReport021819.pdf
---
AD: Need more capital to trade? Click here.
---
Question #1. Which direction do you think the S&P500 index will move from this coming Tuesday's open to Friday's close (February 19th to 22nd)?
The order of possible responses to this question on the survey were randomized for each viewer.)
Higher: 67.6%
Lower: 32.4%
Higher/Lower Difference: 35.3%
Question #2. Rate your confidence in your answer to Question #2 by estimating the probability you have correctly predicted next week's market move.
Average of All Responses: 65.0%
Average For "Higher" Responses: 64.1%
Average For "Lower" Responses: 66.8%
Higher/Lower Difference: -2.7%
Responses Submitted This Week: 35
52-Week Average Number of Responses: 41.3
TimingResearch Crowd Forecast Prediction: 57% Chance Higher
This prediction is an attempt by the editor of this newsletter to use the full 5+ year history of data collected from this project to forecast a probability estimate for whether this week's sentiment is going to be correct and ultimately what the markets will do this coming week.
Details: Last week's majority sentiment from the survey was 65.9% Lower, and the Crowd Forecast Indicator prediction was 61% Chance Lower; the S&P500 closed 2.33% Higher for the week. This week's majority sentiment from the survey is 67.6% Higher with a greater average confidence from those who responded Lower. Similar conditions have occurred 28 times in the previous 281 weeks, with the majority sentiment being correct 57% of the time and with an average S&P500 move of 0.02% Lower for the week (one of those circumstances where there have been more moves higher but the overall average move is lower). Based on that history, the TimingResearch Crowd Forecast Indicator is forecasting a 57% Chance that the S&P500 is going to move Higher this coming week.

Raw Data Page (raw data files include full history spreadsheet and the above charts):
TimingResearch.com/data.
---
AD: Need more capital to trade? Click here.
---
Full Weekly Results (full version of this chart available in the raw data spreadsheet for this week, "Date" field below lists the Monday of the week being predicted).
Overall Sentiment All-Time "Correct" Percentage: 52.0%
Overall Sentiment 52-Week "Correct" Percentage: 56.9%
Overall Sentiment 12-Week "Correct" Percentage: 63.6%
Only the previous 52 weeks of data are shown below, please download the raw data to see the full range of past data.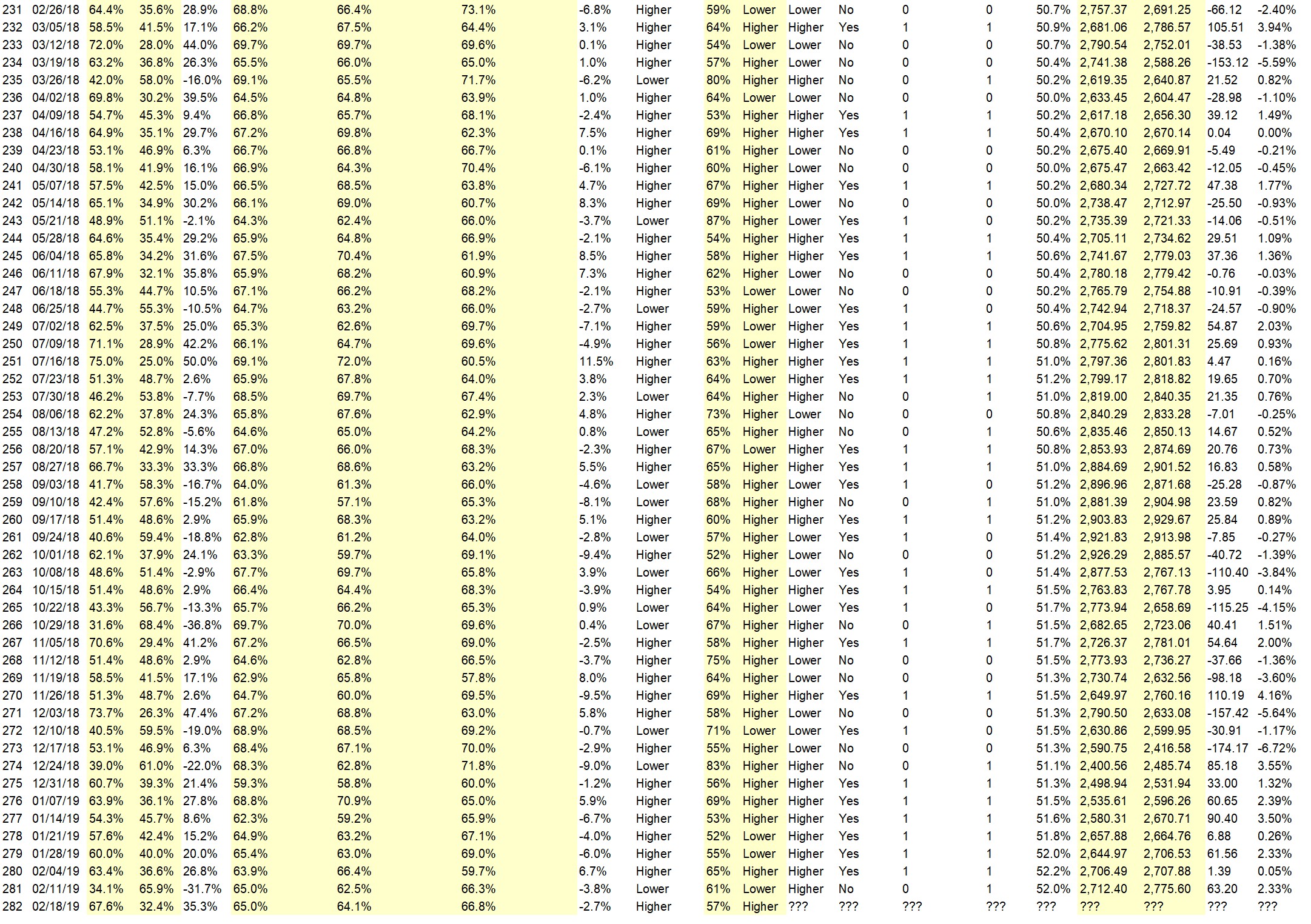 Weekly Reports Page: TimingResearch.com/reports
Raw Data Page: TimingResearch.com/rawdata
Current Survey Page: TimingResearch.com/currentsurvey
Any feedback: TimingResearch.com/contact
---
Email Alerts
Make sure you don't miss all the future reports, show reminders, and bonus offers from TimingResearch, enter your email here:

By signing up you agree to receive newsletter and alert emails. You can unsubscribe at any time. Privacy Policies
---
NOTE: The following open-ended answers are solely the opinions of the anonymous respondents to this survey. Responses are mostly unedited, but some have been reformatted slightly for to make them easier to read. Some irrelevant responses (e.g. "none"), or anything obviously fake, or copy and pasted responses have been omitted. All-caps responses have been changed to all lowercase. All responses for each week, unedited, are available in the raw data spreadsheets at TimingResearch.com/data.
Question #3. For your answer to Question #1, please share what specific reason(s) you think the S&P500 will be heading the direction you chose.
"Higher" Respondent Answers:
• optimistic about fundamentals
• European hedgefunds moving to American markets.
• Momentum
• China deal hopes
• Renewed optimism.
• trend
• Closer to possible USA/China Deal
• 1.Seasonality- Feb – May usually bullish. 2. tariff war abating ? 3. Even stupidity runs out of steam !
• continued belief in trade deal
• The trend will be up until it isn't
• Border Security
• This week ends with momentum Market building a top
• trend up continues
• Trend and support now establishef
• News, seemingly China trade favorable.b
• China talks looking more positive
• Major indexes crossing above 200DMA
• trade talks still optimistic. cash from Brexit coming to US stocks
"Lower" Respondent Answers:
• Post seasonality correction
• Resistance at 2810.
• overbought
• Need to see all 4-indices ,not 3 breaking out . Like to see a pullback . Reversion to the mean
• elliott wave
• Market is now overbought. Some backing and filling would be helpful.
• The market is balancing negative reports on retail sales and industrial production with hopes of US/China trade deal. The S&P is extended, and 2800 looks like strong resistance. If we get there, the drop could be steeper than the run up.
• Many time pivots favor selling.
---
AD: Need more capital to trade? Click here.
---
Question #4. Who would you most like to see as a guest on one of the TimingResearch shows?
TimingResearch Response: Thank you for the suggestions!
• Price Headley of Big Trends Dave Meckenburg Spelling ? of Tiger Shark Trading AJ Brown of Trader Training
• No 1 can think of
• Constance Brown
• Tom Bowley
• Daytradingradio host john cursico.
• Chris breacher
• Warren Buffet
• sector analysis rotation info
• Mary Ellen
• Kevin Davey and Marvin Arpel of System & Forecast
---
Question #5. Additional Comments/Questions/Suggestions?
• Expert in trading small caps
---
Join us for this week's shows:
---
Analyze Your Trade Episode #66
When you register, you will be prompted to list the top 5 stocks that you are interested in trading. We will list the top 5 from all registrants and our experts will be prepared to offer their opinions on these trades.
Date and Time:
– Tuesday, February 19th, 2019
– 4:30PM ET (1:30PM PT)
Moderator and Guests:
– Jim Kenney of OptionProfessor.com
– Neil Batho of TraderReview.net
– Anka Metcalf of TradeOutLoud.com (moderator)

---
Crowd Forecast News Episode #214
This week's show will feature a discussion with the trading experts listed below about the most recent TimingResearch Crowd Forecast Newsletter report, where they think the S&P500 is headed, what they are watching for in the markets currently, and their best trading idea.
Date and Time:
– Monday, February 25th, 2019
– 1PM ET (10AM PT)
Moderator and Guests:
– Mark Sachs of RightLineTrading.com
– Jim Kenney of OptionProfessor.com
– Gary Dean of SentimentTiming.com

---
AD: Need more capital to trade? Click here.