Crowd Forecast News Report #288
AD: Get Trial Access To 3 Top Trading Services
---
The new TimingResearch report for the week has been posted, you can download the full PDF report with the link below or you can read the full report in this post below.
Click here to download report in PDF format: TRReport033119.pdf
---
Question #1. Which direction do you think the S&P500 index will move from this coming Monday's open to Friday's close (April 1st and 5th)?
The order of possible responses to this question on the survey were randomized for each viewer.)
Higher: 64.7%
Lower: 35.3%
Higher/Lower Difference: 29.4%
Question #2. Rate your confidence in your answer to Question #2 by estimating the probability you have correctly predicted next week's market move.
Average of All Responses: 64.6%
Average For "Higher" Responses: 62.1%
Average For "Lower" Responses: 69.2%
Higher/Lower Difference: -7.1%
Responses Submitted This Week: 38
52-Week Average Number of Responses: 40.5
TimingResearch Crowd Forecast Prediction: 62% Chance Lower
This prediction is an attempt by the editor of this newsletter to use the full 5 year history of data collected from this project to forecast a probability estimate for whether this week's sentiment is going to be correct and ultimately what the markets will do this coming week.
Details: Last week's majority sentiment from the survey was 71.1% Lower, and the Crowd Forecast Indicator prediction was 63% Chance Higher; the S&P500 closed 1.37% Higher for the week. This week's majority sentiment from the survey is 64.7% Higher with a greater average confidence from those who responded Lower. Similar conditions have occurred 13 times in the previous 287 weeks, with the majority sentiment (Higher) being correct 38% of the time and with an average S&P500 move of 0.89% Lower for the week. Based on that history, the TimingResearch Crowd Forecast Indicator is forecasting a 62% Chance that the S&P500 is going to move Lower this coming week.

Raw Data Page (raw data files include full history spreadsheet and the above charts):
TimingResearch.com/data.
---
AD: Get Trial Access To 3 Top Trading Services
---
Full Weekly Results (full version of this chart available in the raw data spreadsheet for this week, "Date" field below lists the Monday of the week being predicted).
Overall Sentiment All-Time "Correct" Percentage: 51.2%
Overall Sentiment 52-Week "Correct" Percentage: 56.9%
Overall Sentiment 12-Week "Correct" Percentage: 45.5%
Only the previous 52 weeks of data are shown below, please download the raw data to see the full range of past data.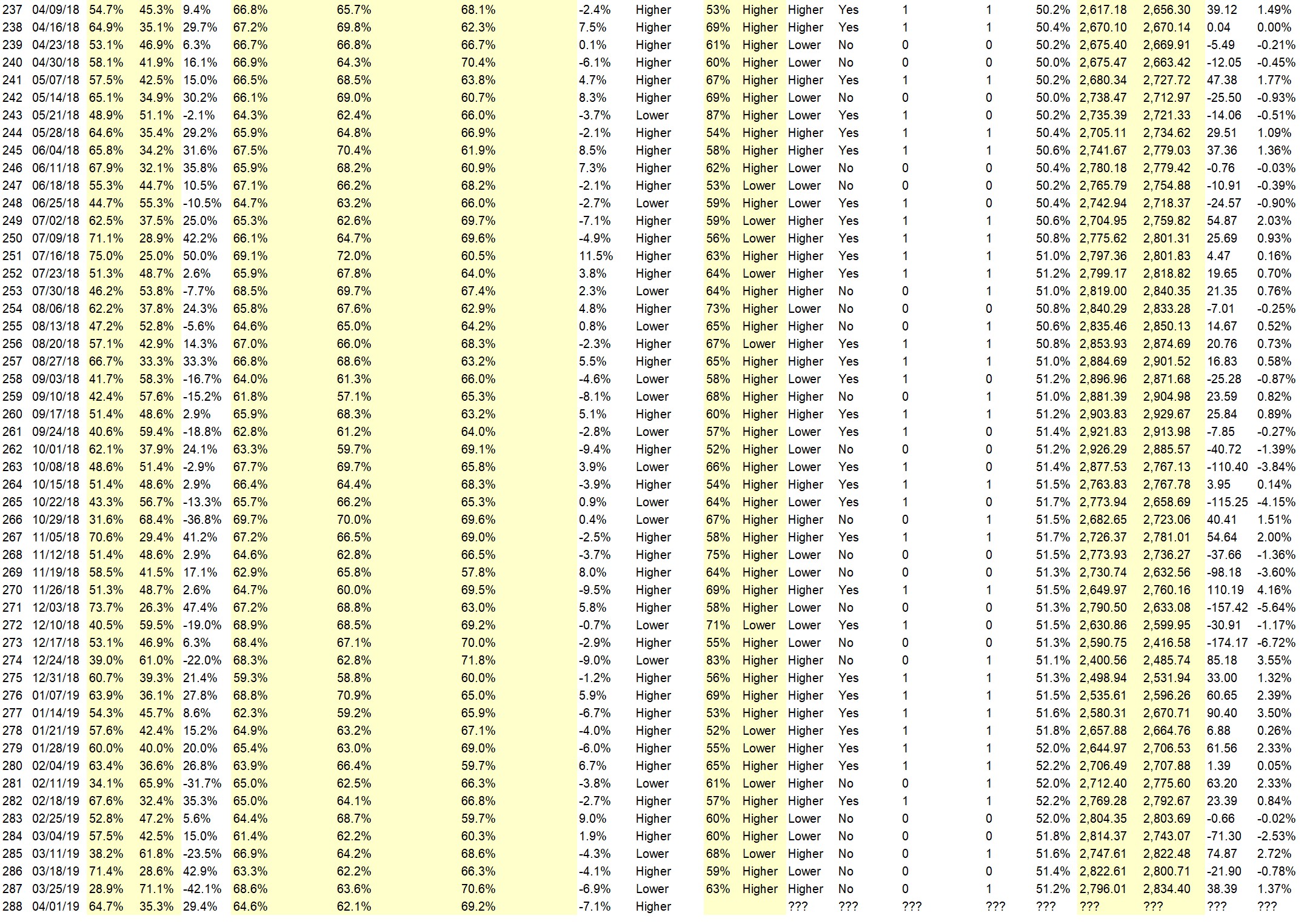 Weekly Reports Page: TimingResearch.com/reports
Raw Data Page: TimingResearch.com/rawdata
Current Survey Page: TimingResearch.com/currentsurvey
Any feedback: TimingResearch.com/contact
---
Email Alerts
Make sure you don't miss all the future reports, show reminders, and bonus offers from TimingResearch, enter your email here:

By signing up you agree to receive newsletter and alert emails. You can unsubscribe at any time. Privacy Policies
---
NOTE: The following open-ended answers are solely the opinions of the anonymous respondents to this survey. Responses are mostly unedited, but some have been reformatted slightly for to make them easier to read. Some irrelevant responses (e.g. "none"), or anything obviously fake, or copy and pasted responses have been omitted. All-caps responses have been changed to all lowercase. All responses for each week, unedited, are available in the raw data spreadsheets at TimingResearch.com/data.
Question #3. For your answer to Question #1, please share what specific reason(s) you think the S&P500 will be heading the direction you chose.
"Higher" Respondent Answers:
• historically best six months of the year
• Economy is improving
• Trend continues
• Can't tell for sure where we're going from here.
• Continued retracement
• Elliott Wave 4 Buys
• Friday's' surge suggests the market likes the chances of the US-China trade negotiations; and doesn't worry much about the inverted yields.
• Momentum & China Trade deal
• economy.
• There is no selling almost and keep pumping with low volume They dont want to sell
• trend is upward on Basic stocks AMT, DIS etc. Macro a little different but trying to push higher unless some terrorist event
• higher low last week
• The trend continues
• seasonal
"Lower" Respondent Answers:
• I hate Trump
• S&P should rest
• cycle
• because rusesll is not keeping up with s/p-overbought -complacency-high-mrkt sideways 2-weeks-drift loweer
• S&P at upper resistance
• The market is still overbought and acting tired. Need more downside action.
• I refuse to go into any detail except to note that the writing is already on the wall. A market shake-out is coming. No one can predict with any certainty when that begins happening, but the circumstances for it's inevitable occurrence are setting it all up. It'snot a question of IF.
• Market completing a double t0p b4 summet
• Failure of ES to stay above 2900 level.
---
AD: Get Trial Access To 3 Top Trading Services
---
Question #4. What type(s) of trading do you specialize in or focus on? How did you come to that decision?

• day trading cause it works
• Dividend
• Arbitrage of individual stocks who fall for unreasonable reasons. They generally rebound. Need tight stops though. I do it because these generally cause a sudden intense movement.
• Index options,I find it's easier to follow and predict.
• options – elliott wave and other indicators
• Swing trading stocks. My schedule doesn't allow for day trading; and longer term trading is too slow for me.
• selling BPS. Theta
• Options for the most part. Allows me to control large number of shares at a fraction for the share price.
• Puts and Calls hedging on stocks at earning dates or event. i have noticed strength upward bias
• Day trading as I can sleep well having closed very large positions.
• Futures
• futures
• Options
• options
• daytradingy technicals -stack moving avgs.mr
• options, less capital required
• Long term commodity etfs
• Eminis S&P because of liquidity and focus on researching on one name instead of several names like stocks.
---
Question #5. Additional Comments/Questions/Suggestions?
• Love you guys
---
Join us for this week's shows:
---
Crowd Forecast News Episode #219
This week's show will feature a discussion with the trading experts listed below about the most recent TimingResearch Crowd Forecast Newsletter report, where they think the S&P500 is headed, what they are watching for in the markets currently, and their best trading idea.
Date and Time:
– Monday, April 1st, 2019
– 1PM ET (10AM PT)
Moderator and Guests:
– Mark Sachs of RightLineTrading.com
– Jim Kenney of OptionProfessor.com
– Simon Klein of TradeSmart4x.com (moderator)
---
Analyze Your Trade Episode #72
When you register, you will be prompted to list the top 5 stocks that you are interested in trading. We will list the top 5 from all registrants and our experts will be prepared to offer their opinions on these trades.
Date and Time:
– Tuesday, April 2nd, 2019
– 4:30PM ET (1:30PM PT)
Moderator and Guests:
– Bryan Klindworth of AlphaShark.com (first time guest!)
– Jerremy Newsome of RealLifeTrading.com
– E. Matthew "Whiz" Buckley of TopGunOptions.com (moderator)
---
AD: Get Trial Access To 3 Top Trading Services