Crowd Forecast News Report #289
AD: 6 days + 70 world-class wealth experts = 1 fantastic event (click here).
---
The new TimingResearch report for the week has been posted, you can download the full PDF report with the link below or you can read the full report in this post below.
Click here to download report in PDF format: TRReport040719.pdf
---
Question #1. Which direction do you think the S&P500 index will move from this coming Monday's open to Friday's close (April 8th to 12th)?
The order of possible responses to this question on the survey were randomized for each viewer.)
Higher: 61.1%
Lower: 38.9%
Higher/Lower Difference: 22.2%
Question #2. Rate your confidence in your answer to Question #2 by estimating the probability you have correctly predicted next week's market move.
Average of All Responses: 66.5%
Average For "Higher" Responses: 63.6%
Average For "Lower" Responses: 71.1%
Higher/Lower Difference: -7.4%
Responses Submitted This Week: 38
52-Week Average Number of Responses: 40.3
TimingResearch Crowd Forecast Prediction: 57% Chance Lower
This prediction is an attempt by the editor of this newsletter to use the full 5 year history of data collected from this project to forecast a probability estimate for whether this week's sentiment is going to be correct and ultimately what the markets will do this coming week.
Details: Last week's majority sentiment from the survey was 64.7% Lower, and the Crowd Forecast Indicator prediction was 62% Chance Lower; the S&P500 closed 1.55% Higher for the week. This week's majority sentiment from the survey is 61.1% Higher with a greater average confidence from those who responded Lower. Similar conditions have occurred 14 times in the previous 288 weeks, with the majority sentiment (Higher) being correct 43% of the time and with an average S&P500 move of 0.72% Lower for the week. Based on that history, the TimingResearch Crowd Forecast Indicator is forecasting a 57% Chance that the S&P500 is going to move Lower this coming week.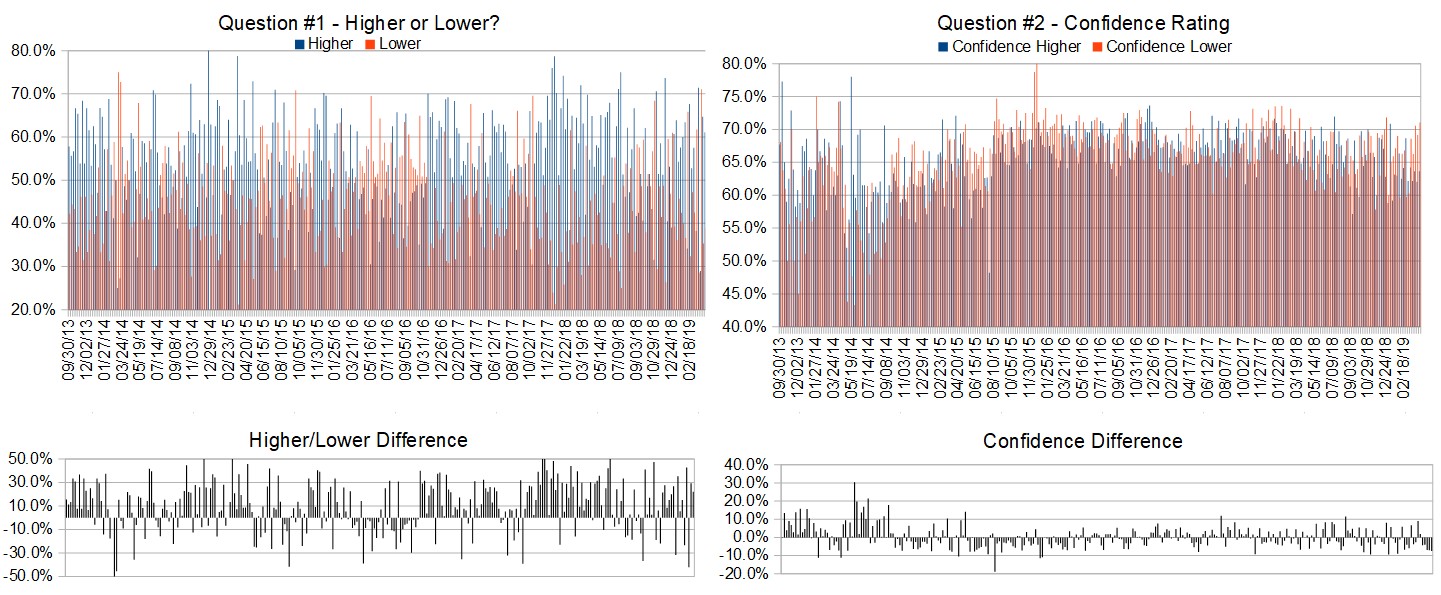 Raw Data Page (raw data files include full history spreadsheet and the above charts):
TimingResearch.com/data.
---
Full Weekly Results (full version of this chart available in the raw data spreadsheet for this week, "Date" field below lists the Monday of the week being predicted).
Overall Sentiment All-Time "Correct" Percentage: 51.4%
Overall Sentiment 52-Week "Correct" Percentage: 56.9%
Overall Sentiment 12-Week "Correct" Percentage: 45.5%
Only the previous 52 weeks of data are shown below, please download the raw data to see the full range of past data.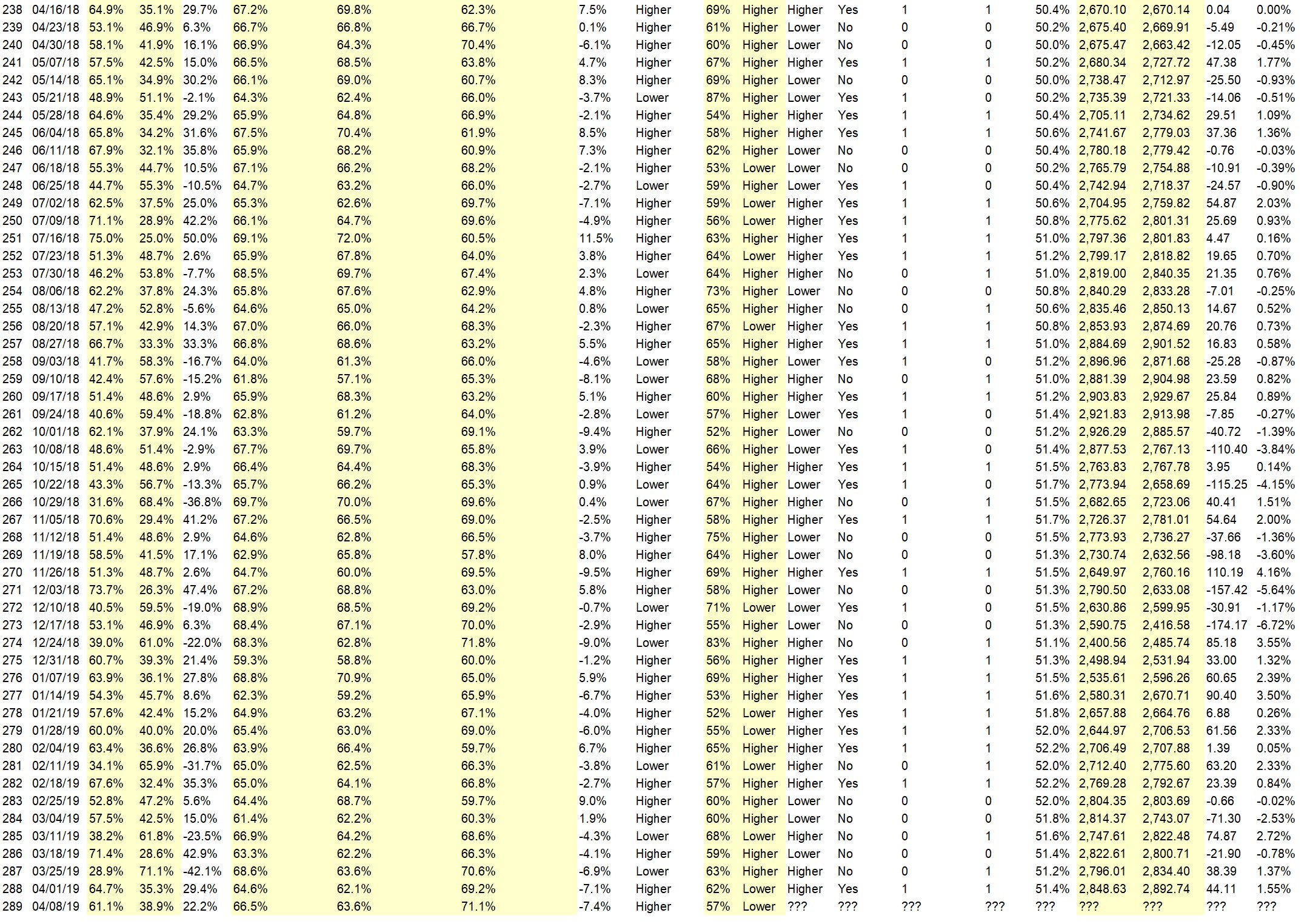 Weekly Reports Page: TimingResearch.com/reports
Raw Data Page: TimingResearch.com/rawdata
Current Survey Page: TimingResearch.com/currentsurvey
Any feedback: TimingResearch.com/contact
---
Email Alerts
Make sure you don't miss all the future reports, show reminders, and bonus offers from TimingResearch, enter your email here:

By signing up you agree to receive newsletter and alert emails. You can unsubscribe at any time. Privacy Policies
---
NOTE: The following open-ended answers are solely the opinions of the anonymous respondents to this survey. Responses are mostly unedited, but some have been reformatted slightly for to make them easier to read. Some irrelevant responses (e.g. "none"), or anything obviously fake, or copy and pasted responses have been omitted. All-caps responses have been changed to all lowercase. All responses for each week, unedited, are available in the raw data spreadsheets at TimingResearch.com/data.
Question #3. For your answer to Question #1, please share what specific reason(s) you think the S&P500 will be heading the direction you chose.
"Higher" Respondent Answers:
• Economic reasons maybe I think some
• For the 2nd week in a row it's been going up. keep going up baby!!!
• Higher oil prices and the continued increase o small cap stocks.
• Historically best six months
• Broke resistance and should be testing close to the all time high .. Volume is low and there is not much conviction after breaking resistance .. So it is a 2 blade knife .. but the bias so far is still to the Upside.
• Seasonality as researched by Norman Fasback in the early 1990s back to 1927 which showed that ALL of the market's gains occurred on the last 2 trading days of the old month and the first 10 trading days of the old month! The rest of each month netted 0! Next week has trading day #6 – #10 for April. High probability, NOT guaranteed!
• Bullish momentum
• Good news
• weak trend will continue.
• go with the trend…until it ends
• history and world situation
• The S&P continues to drive upwards (no down days last week). It looks like it's targeting the high from last September; and I wouldn't bet against it getting there.-
• General improvement in global economic growth.
• trend is up
• Low Interest Rates
• Trend
"Lower" Respondent Answers:
• Wednesday is an important astrological turndate
• Time to re-group
• because -wil hit 2900 and re-test down.
• elliott wave 4 may be beginning
• Market is overbought. Market needs to back and fill to get healthy.
• Overbought, time for a break
• The 💰 has flowed in 1 thing unexpected and the herd will stampede 0ut
• Volatile markets lower trading due to uncertainty and global economic problems.
• Chart looks like a climactic top.
---
AD: 6 days + 70 world-class wealth experts = 1 fantastic event (click here).
---
Question #4. What trading-related questions or topics would you like the experts to discuss on future episodes of the weekly Crowd Forecast News show? (The show is off this coming week, but back on April 15th.)
• How useful is " Sell in May & go away ?" #2. What resources can the DIY investor use to gauge the coming of a recession and how to prepare for one ?
• Levels Up and down ..
• No preference
• No reference
• Global macroeconomic issues managing volatile market conditions
• Trading market turning points
• Topping patterns
• trading vxxb weekly options
• Money management — need to consider 3 factors – risk reward probability. But how the heck to decide on probability? What if always guestimated probability to be 50%, then how to apply money management?
• The "Holy Grail" of trading
• Simple Trading Strategy/Systems for beginers
• Small caps and international markets such as China.
• Profit
• Option deltas
---
Question #5. Additional Comments/Questions/Suggestions?
• Keep up the good work
• LOL
• Keep up the good analysis !!
• what is the performance of your survey's?
---
Join us for this week's shows:
---
Crowd Forecast News Episode #220
This week's show will feature a discussion with the trading experts listed below about the most recent TimingResearch Crowd Forecast Newsletter report, where they think the S&P500 is headed, what they are watching for in the markets currently, and their best trading idea.
Date and Time:
– Monday, April 15th, 2019
– 1PM ET (10AM PT)
Moderator and Guests:
– A.J. Brown of TradingTrainer.com
– Mark Sachs of RightLineTrading.com
– Bennett McDowell of TradersCoach.com

---
Analyze Your Trade Episode #73
When you register, you will be prompted to list the top 5 stocks that you are interested in trading. We will list the top 5 from all registrants and our experts will be prepared to offer their opinions on these trades.
Date and Time:
– Tuesday, April 16th, 2019
– 4:30PM ET (1:30PM PT)
Moderator and Guests:
– John Thomas of MadHedgeFundTrader.com
– Jim Kenney of OptionProfessor.com
– Larry Gaines of PowerCycleTrading.com

---
AD: 6 days + 70 world-class wealth experts = 1 fantastic event (click here).