Crowd Forecast News Report #300
AD: The perfect pullback trade (free to download today).
---
The new TimingResearch report for the week has been posted, you can download the full PDF report with the link below or you can read the full report in this post below.
Click here to download report in PDF format: TRReport062319.pdf
---
Question #1. Which direction do you think the S&P500 index will move from this coming Monday's open to Friday's close (June 24th to 28th)?
The order of possible responses to this question on the survey were randomized for each viewer.)
Higher: 48.3%
Lower: 51.7%
Higher/Lower Difference: -3.4%
Question #2. Rate your confidence in your answer to Question #2 by estimating the probability you have correctly predicted next week's market move.
Average of All Responses: 67.4%
Average For "Higher" Responses: 65.7%
Average For "Lower" Responses: 69.0%
Higher/Lower Difference: -3.3%
Responses Submitted This Week: 29
52-Week Average Number of Responses: 38.0
TimingResearch Crowd Forecast Prediction: 78% Chance Higher
This prediction is an attempt by the editor of this newsletter to use the full 5 year history of data collected from this project to forecast a probability estimate for whether this week's sentiment is going to be correct and ultimately what the markets will do this coming week.
Details: Last week's majority sentiment from the survey was 57.5% Higher, and the Crowd Forecast Indicator prediction was 56% Chance Higher; the S&P500 closed 2.10% Higher for the week. This week's majority sentiment from the survey is 51.7% Lower with a greater average confidence from those who responded Lower. Similar conditions have occurred 9 times in the previous 299 weeks, with the majority sentiment (Lower) being correct 22% of the time and with an average S&P500 move of 0.73% Higher for the week. Based on that history, the TimingResearch Crowd Forecast Indicator is forecasting a 78% Chance that the S&P500 is going to move Higher this coming week.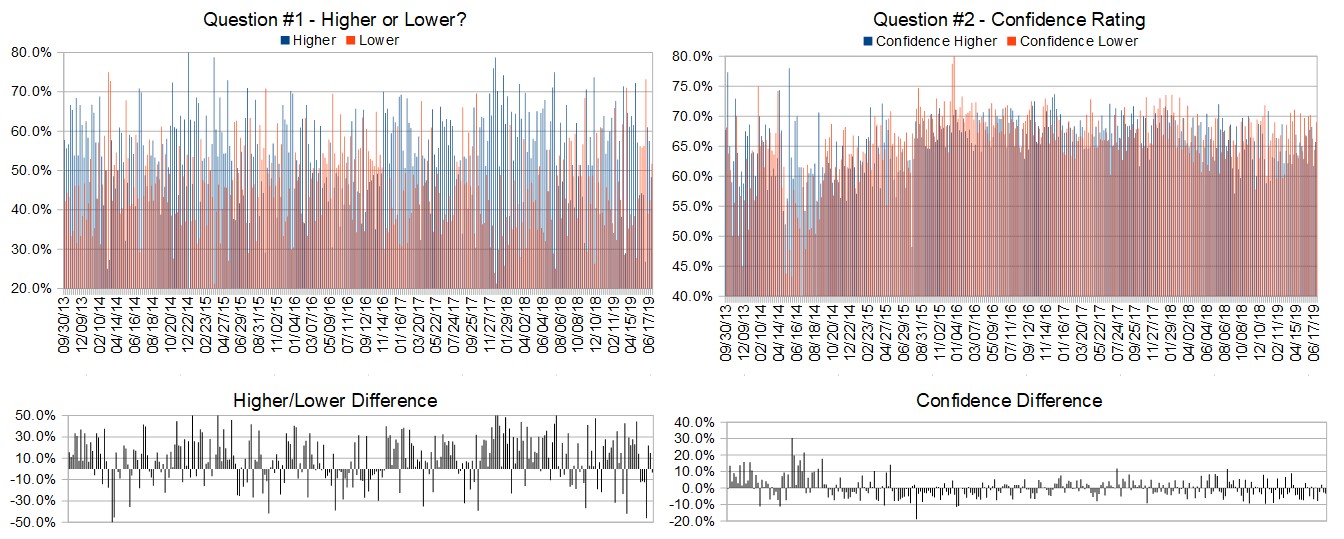 Raw Data Page (raw data files include full history spreadsheet and the above charts):
TimingResearch.com/data.
---
AD: The perfect pullback trade (free to download today).
---
Full Weekly Results (full version of this chart available in the raw data spreadsheet for this week, "Date" field below lists the Monday of the week being predicted).
Overall Sentiment All-Time "Correct" Percentage: 51.9%
Overall Sentiment 52-Week "Correct" Percentage: 58.8%
Overall Sentiment 12-Week "Correct" Percentage: 63.6%
Only the previous 52 weeks of data are shown below, please download the raw data to see the full range of past data.
Weekly Reports Page: TimingResearch.com/reports
Raw Data Page: TimingResearch.com/rawdata
Current Survey Page: TimingResearch.com/currentsurvey
Any feedback: TimingResearch.com/contact
---
Email Alerts
Make sure you don't miss all the future reports, show reminders, and bonus offers from TimingResearch, enter your email here:

By signing up you agree to receive newsletter and alert emails. You can unsubscribe at any time. Privacy Policies
---
NOTE: The following open-ended answers are solely the opinions of the anonymous respondents to this survey. Responses are mostly unedited, but some have been reformatted slightly for to make them easier to read. Some irrelevant responses (e.g. "none"), or anything obviously fake, or copy and pasted responses have been omitted. All-caps responses have been changed to all lowercase. All responses for each week, unedited, are available in the raw data spreadsheets at TimingResearch.com/data.
Question #3. For your answer to Question #1, please share what specific reason(s) you think the S&P500 will be heading the direction you chose.
"Higher" Respondent Answers:
• Due to the China/US trade war, SPY will go higher
• wave 5 ends in July
• short squeeze
• No reversal yet. Market trading the good news.
• option friday expiration over. short term down then up without macro news
• all time highs broken
• MO & optimism re China trade deal
• RSI on daily H4 and H1 are motoring long in sync. Daily does show divergence but could continue to the end of the month.
"Lower" Respondent Answers:
• Look of the chart – climactic top needs downside correction.
• Once the DTrump and Pres Xi talks are over and DTrump stops tweeting manipulatively motivated predictions that rarely ever occur , I believe the recent gains will begin to fall away. I do not expect a crash but as the reality sets in surrounding the phenom of DTrump tweets done to cause the market to go up, eventually the emperor will be exposed as "having no clothes"/substance. Once this takes root, the market, much of its upward momentum being unwarranted, is likely to readjust downward
• Failure of agreement of trade war at g30
• overbought
• After this week, we are due for a consolidation !
• weakening momentum
• Market held up correction occurs as summer sets in
• contrarian
• Market tippy 1 more FED rate cut keeping market up temporarily
• Negatives – Inverted yield curve, tariff wars, S&P earnings vs. previous quarter may be negative. G20 summit coming up – not expecting much,
• Market is overbought and looking tired. Some downside action is needed.
---
AD: The perfect pullback trade (free to download today).
---
Question #4. What procedures do you use to monitor and evaluate your trading results and progress over time?
• Subjective journalling and lots of what-if scenarios with PC-SPAN.
• The stock market in general
• my brain
• recordkeeping
• factor spreadsheets
• Check the balance.
• Cash amounts up or down. stocks option activity. Trade war news. black swan events
• p&l
• Track positions daily make improvements. In record keeping
• Daily follow market
• P & L
• A custom weighted multi-timeframe RSI with BB's and a couple of MA's
---
BONUS: Which of the following have you traded with real money so far this year? (check any that apply)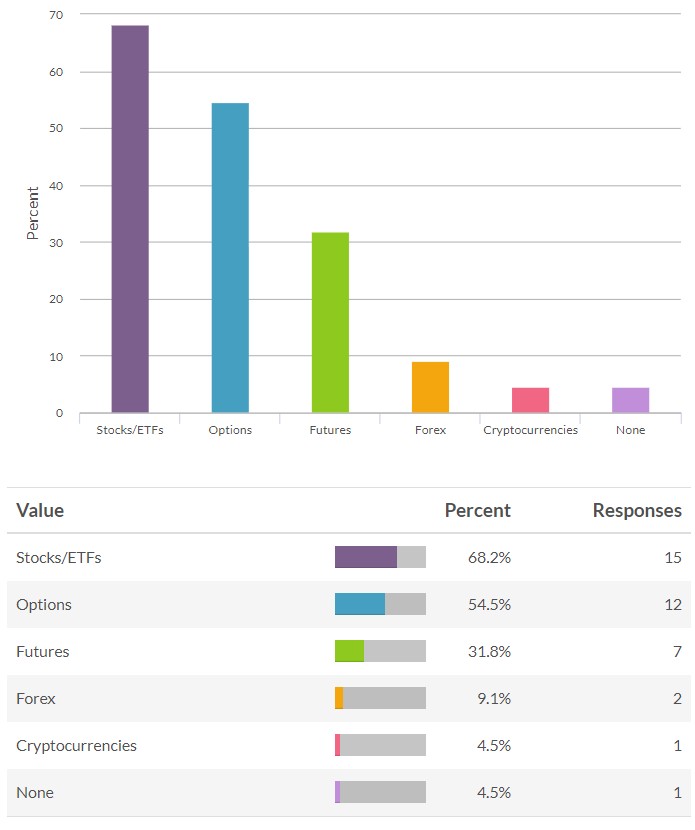 ---
Question #5. Additional Comments/Questions/Suggestions?
• I say the stock market has a lot of up room (compared to Dec 2018) left before the bottom falls out.
• look out below
• credit spreads
• Never give up on your trading, learning it and get good at it.
---
AD: The perfect pullback trade (free to download today).
---
Join us for this week's shows:
---
Crowd Forecast News Episode #229
This week's show will feature a discussion with the trading experts listed below about the most recent TimingResearch Crowd Forecast Newsletter report, where they think the S&P500 is headed, what they are watching for in the markets currently, and their best trading idea.
Date and Time:
– Monday, June 24th, 2019
– 1PM ET (10AM PT)
Moderator and Guests:
– Bennett McDowell of TradersCoach.com
– Sam Bourgi of TradingGods.net
– Jake Bernstein of Trade-Futures.com
– Anka Metcalf of TradeOutLoud.com (moderator)

---
Analyze Your Trade Episode #83
When you register, you will be prompted to list the top 5 stocks that you are interested in trading. We will list the top 5 from all registrants and our experts will be prepared to offer their opinions on these trades.
Date and Time:
– Tuesday, June 25th, 2019
– 4PM ET (1PM PT)
Moderator and Guests:
– Jim Kenney of OptionProfessor.com (moderator)
– Michael Filighera of LogicalSignals.com

---
AD: The perfect pullback trade (free to download today).