Crowd Forecast News Report #315
AD: Need more capital to trade? Click for Futures or Forex.
---
The new TimingResearch report for the week has been posted, you can download the full PDF report with the link below or you can read the full report in this post below.
Click here to download report in PDF format: TRReport100619.pdf
---
Question #1. Which direction do you think the S&P500 index will move from this coming Monday's open to Friday's close (October 7th to 11th)?
The order of possible responses to this question on the survey were randomized for each viewer.)
Higher: 70.0%
Lower: 30.0%
Higher/Lower Difference: 40.0%
Question #2. Rate your confidence in your answer to Question #2 by estimating the probability you have correctly predicted next week's market move.
Average of All Responses: 65.3%
Average For "Higher" Responses: 65.7%
Average For "Lower" Responses: 64.4%
Higher/Lower Difference: 1.3%
Responses Submitted This Week: 29
52-Week Average Number of Responses: 36.2
TimingResearch Crowd Forecast Prediction: 60% Chance Higher
This prediction is an attempt by the editor of this newsletter to use the full 5 year history of data collected from this project to forecast a probability estimate for whether this week's sentiment is going to be correct and ultimately what the markets will do this coming week.
Details: Last week's majority sentiment from the survey was 55.6% Lower, and the Crowd Forecast Indicator prediction was 72% Chance Higher; the S&P500 closed 0.73% Lower for the week. This week's majority sentiment from the survey is 70% Higher with a greater average confidence from those who responded Higher. Similar conditions have occurred 63 times in the previous 314 weeks, with the majority sentiment (Higher) being correct 60% of the time and with an average S&P500 move of 0.10% Higher for the week. Based on that history, the TimingResearch Crowd Forecast Indicator is forecasting a 60% Chance that the S&P500 is going to move Higher this coming week.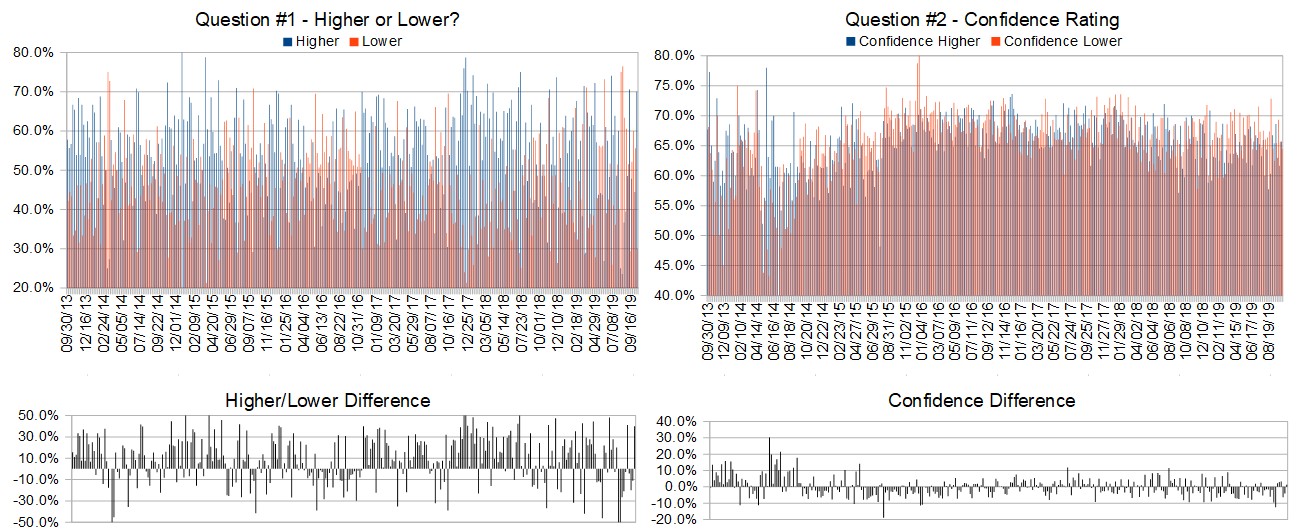 Raw Data Page (raw data files include full history spreadsheet and the above charts):
TimingResearch.com/data.
---
Full Weekly Results (full version of this chart available in the raw data spreadsheet for this week, "Date" field below lists the Monday of the week being predicted).
Overall Sentiment All-Time "Correct" Percentage: 52.3%
Overall Sentiment 52-Week "Correct" Percentage: 56.9%
Overall Sentiment 12-Week "Correct" Percentage: 54.5%
Only the previous 52 weeks of data are shown below, please download the raw data to see the full range of past data.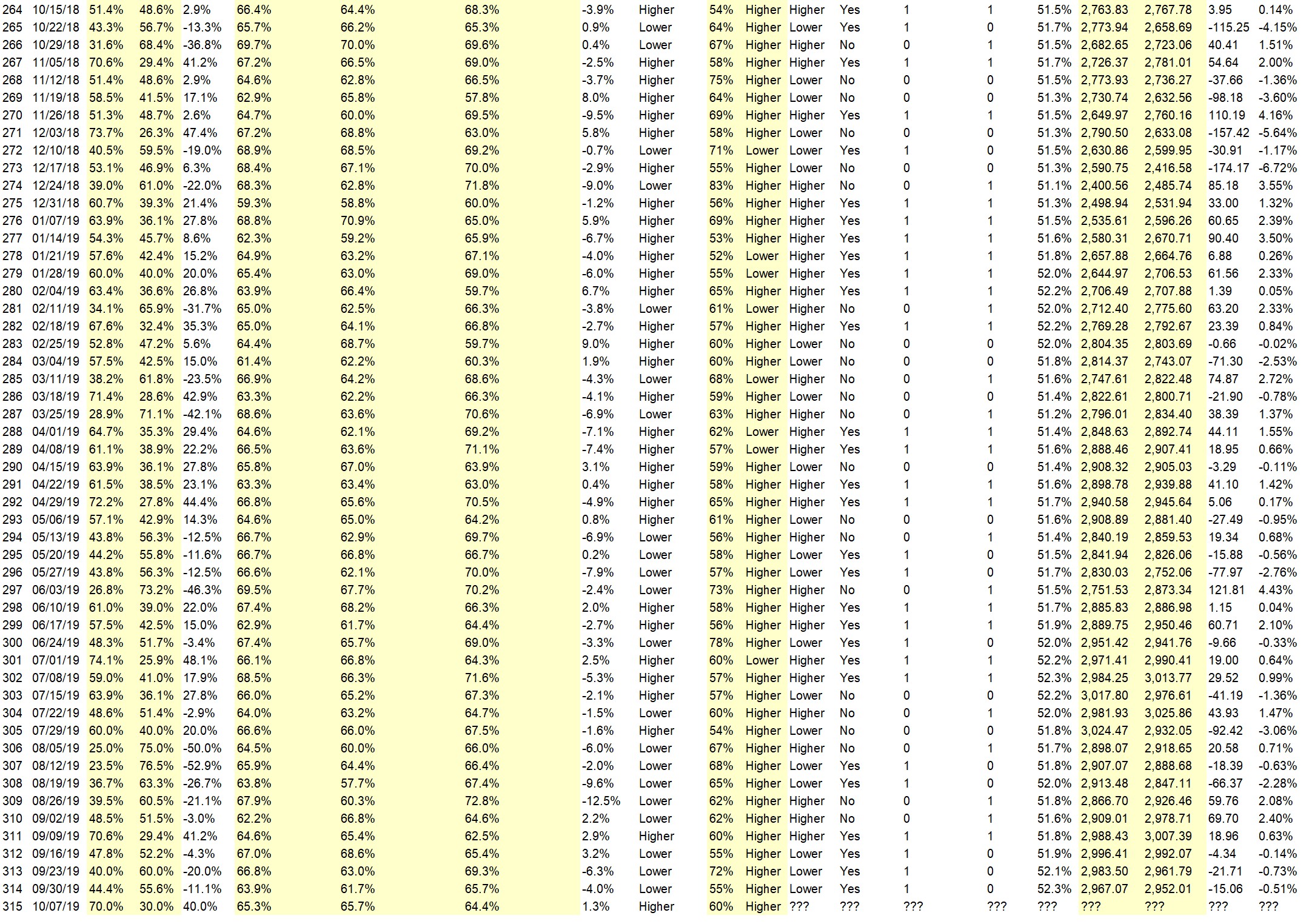 Weekly Reports Page: TimingResearch.com/reports
Raw Data Page: TimingResearch.com/rawdata
Current Survey Page: TimingResearch.com/currentsurvey
Any feedback: TimingResearch.com/contact
---
Email Alerts
Make sure you don't miss all the future reports, show reminders, and bonus offers from TimingResearch, enter your email here:

By signing up you agree to receive newsletter and alert emails. You can unsubscribe at any time. Privacy Policies
---
NOTE: The following open-ended answers are solely the opinions of the anonymous respondents to this survey. Responses are mostly unedited, but some have been reformatted slightly for to make them easier to read. Some irrelevant responses (e.g. "none"), or anything obviously fake, or copy and pasted responses have been omitted. All-caps responses have been changed to all lowercase. All responses for each week, unedited, are available in the raw data spreadsheets at TimingResearch.com/data.
Question #3. For your answer to Question #1, please share what specific reason(s) you think the S&P500 will be heading the direction you chose.
"Higher" Respondent Answers:
• The market seems to be trending higher. Economy still good. Optimism about China trade deal.
• Buyers will respond to lower prices from this week. Unless there's bad political/trade news over the weekend.
• The US jobs report was a good sign and lowering interest rates might factor in a higher S&P500 but not confident…
• because is been that way for last 4 months
• Fed lowers soon puts floor under the market
• seasonality
• summer is over, stocks going higher
• We closed out of the consolidation ranges from last Couple of weeks to the upside. I feel that buyers will come into the market in anticipation of the China USA trade talks that will ultimately fail.
• China deal anticipation
• The S&P has a hammer on the weekly chart, suggesting an upward move.
• Recent bottoming and turnaround in stochastics on 1,3,and 6 mo charts.
• Good news for the week !
• chart formation.
• Positive signs that a resolution to the China Trade war is near
• Good economic news
• It could be big low by Fri but they may still push up for a day or two or keep it still in highs.
"Lower" Respondent Answers:
• it will be sideways
• S&P still topping out so higher chance of it going lower
• Macro Economics, USA is Good, however other countries EU monetary banking issues, IE., Interest rates. China seems slowing, other countries following suit. USA is strongest with Trump in Power, USA will prosper is these times.
---
AD: Need more capital to trade? Click for Futures or Forex.
---
Question #4. What type(s) of trading do you specialize in or focus on? How did you come to that decision?
• Wide interests at this point. Long-term equity positions, forex, and I've just started trading options.
• Options on ETFs, exspectations for economic growth are falling.
• Options
• Ling term & swing
• reversal trades
• options, more defined risk
• Investing, swing and day, Retirement, occasions and salary
• Options
• Futures day trade time frames. Investments long terms as well which I don't focus on as much as they are investments not trades
• Selling covered calls on good stocks. Based on experience
• Swing trading stocks – works for me as a part-time trader.
• Overbought/oversold conditions. Best chance for trend following.
• SPY
• Stocks. However I do follow Bonds, EFT. tec.. I see commentaries of many people and seems most are in agreement.
• I like options.
• Trading E-mini
• Value
• Futures scalping
---
Question #5. Additional Comments/Questions/Suggestions?
• I would like to learn spreads
• let s wait and see
• Gold has stabilized and will slowly rise, Silver following naturally…
• I'm open to suggestions on how to trade options profitably.
• Switching to commodities from indices gradually as index is riskier whereas commodities are perhaps going to be interesting now on
---
Join us for this week's shows:
---
Crowd Forecast News Episode #241
This week's show will feature a discussion with the trading experts listed below about the most recent TimingResearch Crowd Forecast Newsletter report, where they think the S&P500 is headed, what they are watching for in the markets currently, and their best trading idea.
Date and Time:
– Monday, October 7th, 2019
– 1PM ET (10AM PT)
Moderator and Guests:
– Mark Sachs of RightLineTrading.com
– Neil Batho of TraderReview.net
– Jim Kenney of OptionProfessor.com (moderator)

---
Analyze Your Trade Episode #97
When you register, you will be prompted to list the top 5 stocks that you are interested in trading. We will list the top 5 from all registrants and our experts will be prepared to offer their opinions on these trades.
Date and Time:
– Tuesday, October 8th, 2019
– 4PM ET (1PM PT)
Moderator and Guests:
– Michael Filighera of LogicalSignals.com
– Jim Kenney of OptionProfessor.com (moderator)

---