Crowd Forecast News Report #343
[AD]
eBook:
Golden Glitch Strategy
---
The new TimingResearch report for the week has been posted, you can download the full PDF report with the link below or you can read the full report in this post below.
Click here to download report in PDF format: TRReport041920.pdf
---
Question #1. Which direction do you think the S&P500 index will move from this coming Monday's open to Friday's close (April 20th to 24th)?
Higher: 48.0%
Lower: 52.0%
Higher/Lower Difference: -4.0%
Question #2. Rate your confidence in your answer to Question #2 by estimating the probability you have correctly predicted next week's market move.
Average of All Responses: 66.4%
Average For "Higher" Responses: 64.2%
Average For "Lower" Responses: 68.8%
Higher/Lower Difference: -4.5%
Responses Submitted This Week: 28
52-Week Average Number of Responses: 31.7
TimingResearch Crowd Forecast Prediction: 68% Chance Higher
This prediction is an attempt by the editor of this newsletter to use the full 6+ year history of data collected from this project to forecast a probability estimate for whether this week's sentiment is going to be correct and ultimately what the markets will do this coming week.
Details: Last week's majority sentiment from the survey was 51.9% predicting Lower, and the Crowd Forecast Indicator prediction was 67% chance Higher; the S&P500 closed 3.31% Higher for the week. This week's majority sentiment from the survey is 52.0% predicting Lower with a greater average confidence from those who are predicting Lower. Similar conditions have occurred 22 times in the previous 342 weeks, with the majority sentiment (Lower) being correct 32% of the time and with an average S&P500 move of 0.46% Higher for the week. Based on that history, the TimingResearch Crowd Forecast Indicator is forecasting a 68% Chance that the S&P500 is going to move Higher this coming week.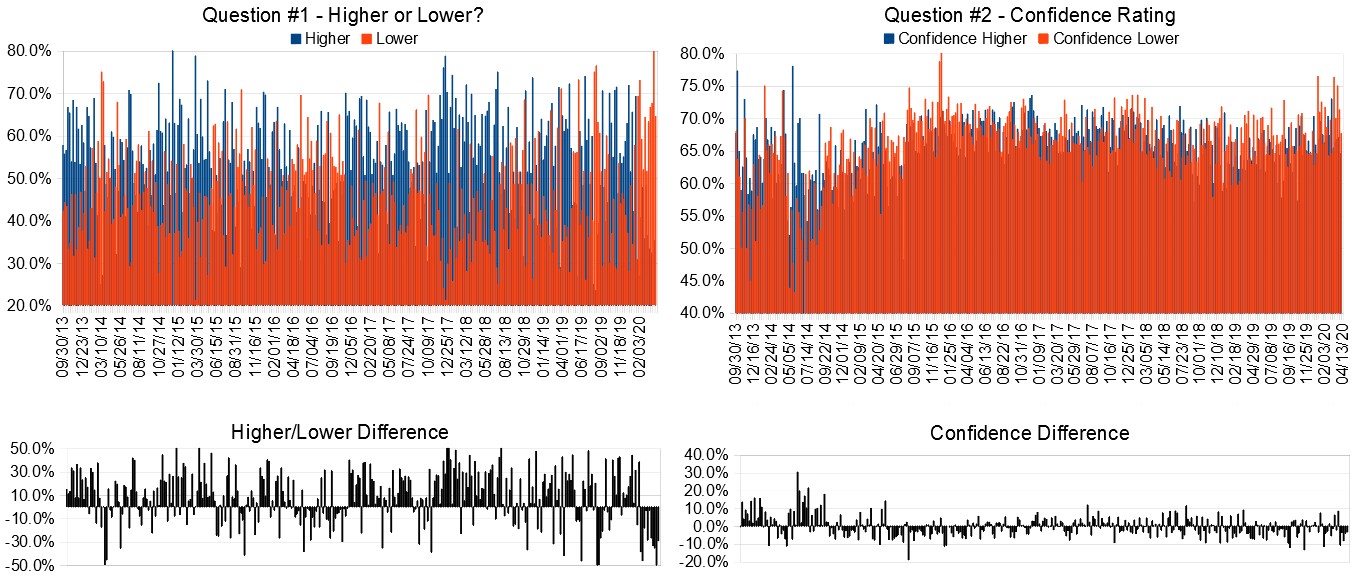 Raw Data Page (raw data files include full history spreadsheet and the above charts):
TimingResearch.com/data.
---
[AD]
eBook:
Golden Glitch Strategy
---
Full Weekly Results (full version of this chart available in the raw data spreadsheet for this week, "Date" field below lists the Monday of the week being predicted).
Overall Sentiment All-Time "Correct" Percentage: 53.3%
Overall Sentiment 52-Week "Correct" Percentage: 62.7%
Overall Sentiment 12-Week "Correct" Percentage: 54.5%
Only the previous 52 weeks of data are shown below, please download the raw data to see the full range of past data.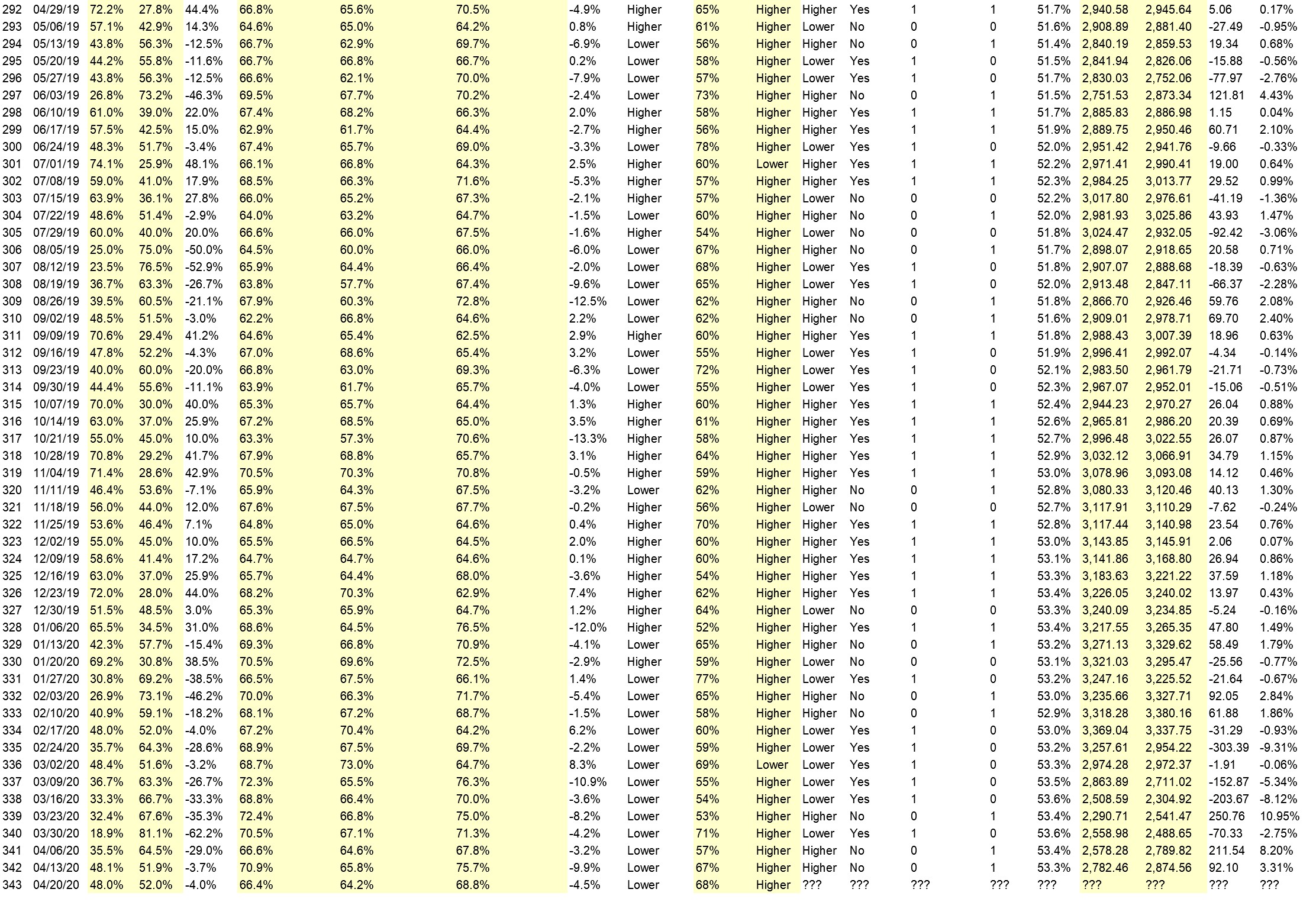 Weekly Reports Page: TimingResearch.com/reports
Raw Data Page: TimingResearch.com/rawdata
Current Survey Page: TimingResearch.com/currentsurvey
Any feedback: TimingResearch.com/contact
---
Make sure you don't miss all the future reports, show reminders, and bonus offers from TimingResearch, enter your best email here:
By signing up you agree to receive newsletter and marketing emails. You can unsubscribe at any time.
Privacy Policies
---
NOTE: The following open-ended answers are solely the opinions of the anonymous respondents to this survey. Responses are mostly unedited, but some have been reformatted slightly for to make them easier to read. Some irrelevant responses (e.g. "none"), or anything obviously fake, or copy and pasted responses have been omitted. All-caps responses have been changed to all lowercase. All responses for each week, unedited, are available in the raw data spreadsheets at TimingResearch.com/data.
Question #3. For your answer to Question #1, please share what specific reason(s) you think the S&P500 will be heading the direction you chose.
"Higher" Respondent Answers:
• Bull Open Range
• FED buying the market indirectly.
• Markets will open partially
• Market will inch higher anticipating some positive news coming from stabilization of virus pandemic
• Why not go higher. I think people are tired of the china HK flue… The Greatest President since JFK, President of The United States Donald Trump will ensure Governor's get workers back to work NOW!
• On track to recovery, especially since there are protests against lockdowns,
• We broke above 50% retracement. If that holds on the 3 major indexes, we are going higher.
• Mkt is very low now
"Lower" Respondent Answers:
• rise of this week will profit take by end of week as people realize opening U S is too early
• selloff early then rebound may close slightly higher but so what Market to seesaw until further notice
• I've got to be right at sometime :)
• got to be right sometime.
• market temporarily overbought
• the markets took a big dive down then went up for no apparent reason
• Too far, too fast
• It looks like the next S&P Fibonacci level is about 2930 (1.9% up from now), likely the next major resistance. That could occur soon. Consider the negativity of these: 2nd quarter GDP could drop 38% (Morgan Stanley), unemployment could rise to 32% (St L Fed), and retail sales down 8.7% in March.
• Many overbought indicators need a breather. Oil is not going to get better anytime soon and they might have to stop pumping or risk not having anywhere to put barrels. Still lots of slow down economy out there for a while.
---
[AD]
eBook:
Golden Glitch Strategy
---
Question #4. What trading-related questions or topics would you like the experts to discuss on future episodes of the weekly Crowd Forecast News show and/or which experts would you like to see on the show who haven't been guests yet? (The show is off this coming week for Wealth365, but back on April 27th.)
• up to date news- hedges using Puts ans Calls
• buying in tranches?
• Financial institutes Master card visa
• How can the governments in the world pay for the stimulus plans
• N/A
---
Question #5. Additional Comments/Questions/Suggestions?
• What oil stocks or pharmacy stocks will be good.
• Are we heading for chaos in world economy
• Let's get workers back to work this week!!!
---
The TimingResearch shows are off this week so you can attend Wealth365 instead!
Wealth365 is the largest free online trading and investment conference in the world. Join us and discover the best tips & strategies, directly from celebrity personalities, financial advisers, champion traders, and business thought leaders. You'll increase your knowledge, grow your skills, and be prepared to take the next step in your financial future.
---
[AD]
eBook:
Golden Glitch Strategy
---
Make sure you don't miss all the future reports, show reminders, and bonus offers from TimingResearch, enter your best email here:
By signing up you agree to receive newsletter and marketing emails. You can unsubscribe at any time.
Privacy Policies