Crowd Forecast News Report #244
The new TimingResearch report for the week has been posted, you can download the full PDF report with the link below or you can read the full report in this post below.
Click here to download report in PDF format: TRReport052818.pdf
Question #1. Which direction do you think the S&P500 index will move from this coming Tuesday's open to Friday's close (May 29th to June 1st)?
(The order of possible responses to this question on the survey were randomized for each viewer.)
Higher: 64.6%
Lower: 35.4%
Higher/Lower Difference: 29.2%
Question #2. Rate your confidence in your answer to Question #2 by estimating the probability you have correctly predicted next week's market move.
Average of All Responses: 65.9%
Average For "Higher" Responses: 64.8%
Average For "Lower" Responses: 66.9%
Higher/Lower Difference: -2.1%
Responses Submitted This Week: 51
26-Week Average Number of Responses: 50.4
TimingResearch Crowd Forecast Prediction: 54% Chance Higher
This prediction is an attempt by the editor of this newsletter to use the full 4+ year history of data collected from this project to forecast a probability estimate for whether this week's sentiment is going to be correct and ultimately what the markets will do this coming week.
Details: Last week's majority sentiment from the survey was 51.1% Lower, and the Crowd Forecast Indicator prediction was 87% Chance Higher; the S&P500 closed 0.51% Lower for the week. This week's majority sentiment from the survey is 64.6% Higher with a greater average confidence from those who responded Lower. Similar conditions have been observed 24 times in the previous 243 weeks, with the majority sentiment being correct 54% of the time, with an average S&P500 move of 0.40% Lower for the week (one of those rare circumstances where the S&P500 moved higher more frequently but the overall average was negative). Based on that history, the TimingResearch Crowd Forecast Indicator is forecasting an 54% Chance that the S&P500 is going to move Higher this coming week.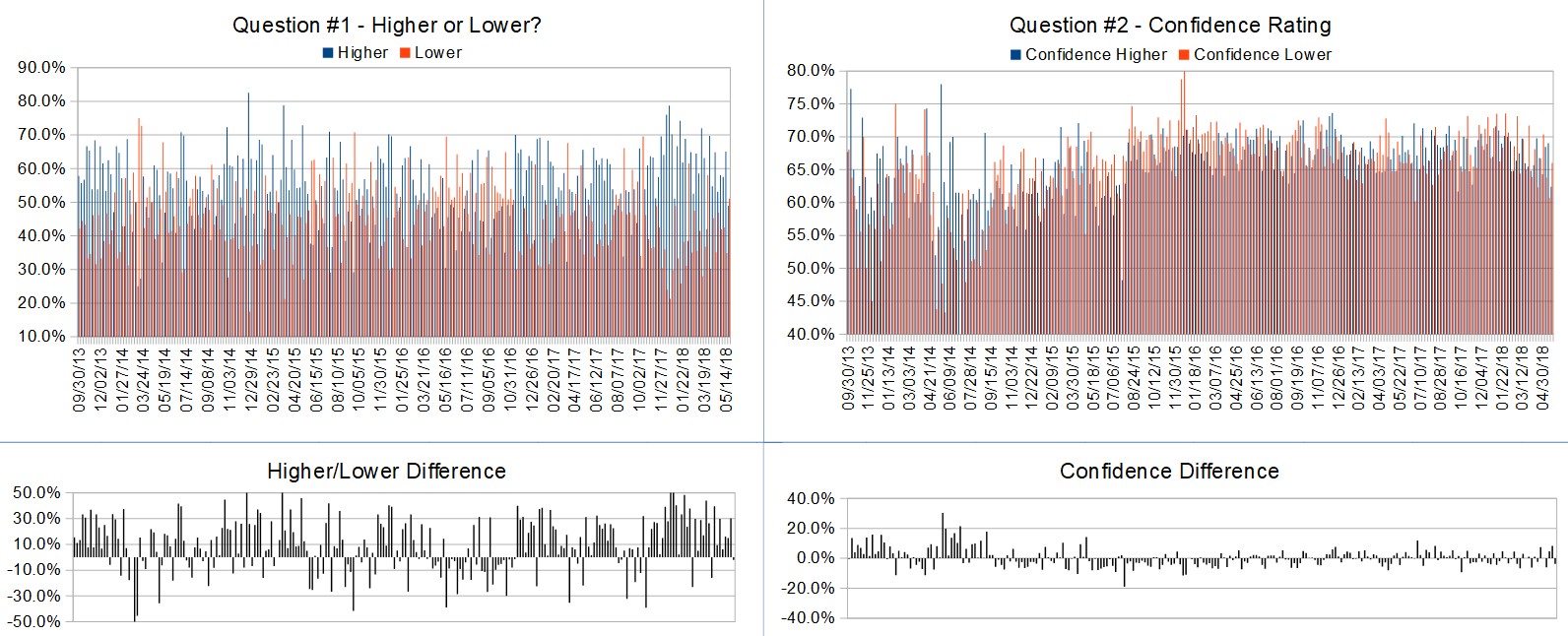 ---
Full Weekly Results (full version of this chart available in the raw data spreadsheet for this week, "Date" field below lists the Monday of the week being predicted).
Overall Sentiment All-Time "Correct" Percentage: 50.2%
Overall Sentiment 52-Week "Correct" Percentage: 51.0%
Overall Sentiment 12-Week "Correct" Percentage: 36.4%
Only the previous 52 weeks of data are shown below, please download the raw data to see the full range of past data.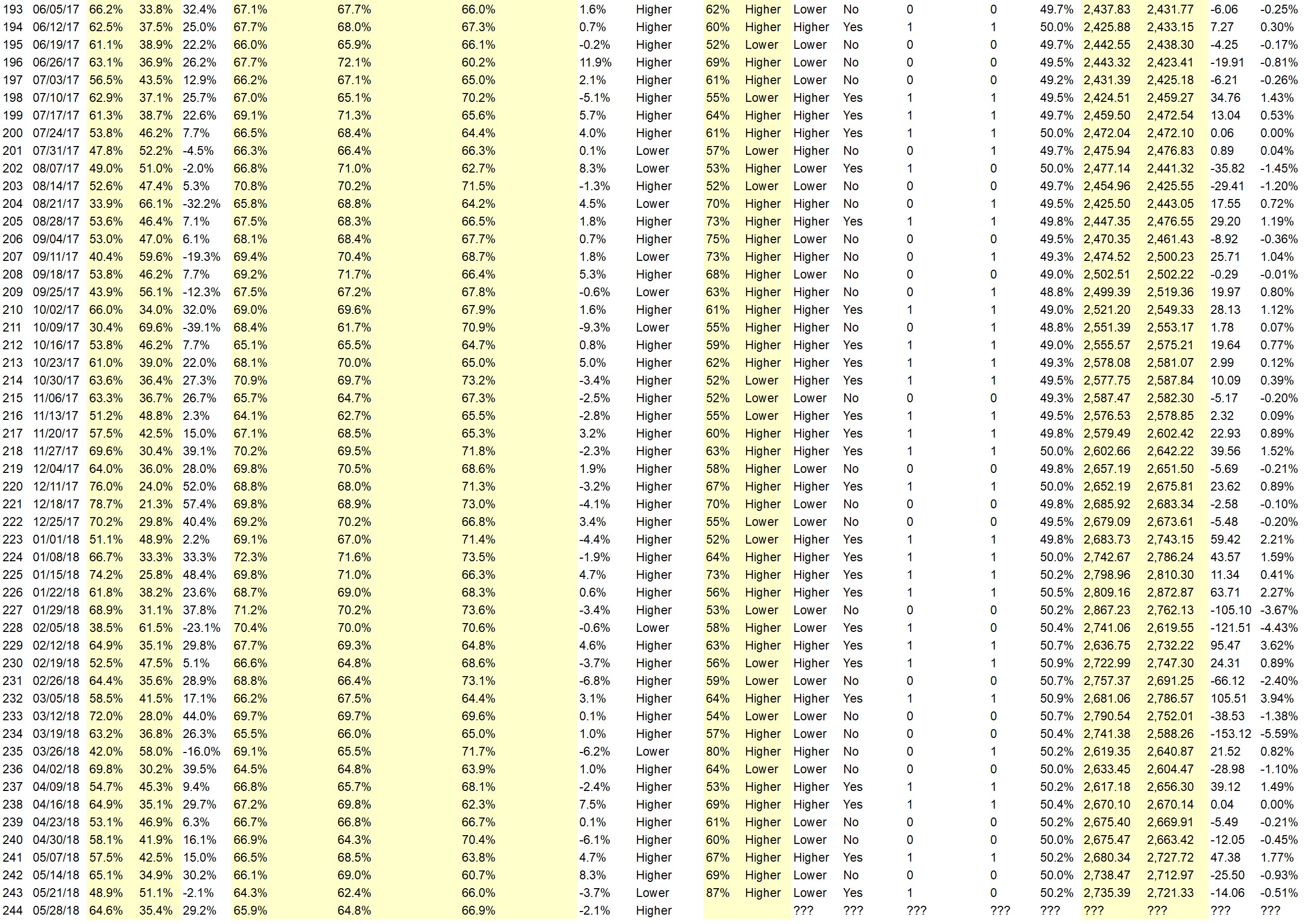 Weekly Reports Page: TimingResearch.com/reports
Raw Data Page: TimingResearch.com/rawdata
Current Survey Page: TimingResearch.com/currentsurvey
Any feedback: TimingResearch.com/contact
---
NOTE: The following open-ended answers are solely the opinions of the anonymous respondents to this survey. Responses are mostly unedited, but some have been reformatted slightly for to make them easier to read. Some irrelevant responses (e.g. "none"), or anything obviously fake, or copy and pasted responses have been omitted. All-caps responses have been changed to all lowercase. All responses for each week, unedited, are available in the raw data spreadsheets at TimingResearch.com/data.
Question #3. For your answer to Question #1, please share what specific reason(s) you think the S&P500 will be heading the direction you chose.
"Higher" Respondent Answers:
• Looks like S&P 500 index establishing support at these levels. Expect further sideways action with slightly increasing prices.
• War. War. Drum eat tempo increases
• On the daily chart: 1) The S&P500 index value broke the bearish trend line and resistance line at level 2716 2) The S&P500 index has formed the bullish candlestick pattern Tweezer Bottom above the resistance line, reporting that it will go bullish. 3) Currently the S&P500 index is in lateral movement or range, forming a rectangle, informing that the SP&500 index will go up towards 2800
• Jordan
• set up to go up– taxes – low interest- etc
• N Korea summit looks positive, if that changes, so would my opinion
• geo-political better —–tweets less mad
• Overall trend in the chart shows a price increase. Bollinger bands are trending up, and so is RSI.
• Pre-election sentiment.
• Comes out + on indicator
• still buying
• The S&P has continued its consolidation pattern above the 50-day MA. Dips are being bought.
• Oil @ China were the down fall and should and that problem should be thru by mid week an we should see a slight change to the up side but after a little more down in the early part of the week if will do good to move up little.
• 12 Week EMA providing support to intermediate uptrend.
• seasonally, market usually goes up after memorial day
• Lots of outside influences affecting the market. Politics, price of oil. S&P was down a few points this week. I expect the same type of result this next week.
• The market is bullet proof and impervious to all disaster, natural and man made!!!!
• rr
• Donald Trump and the strong turnout to vote for our Republican primary
"Lower" Respondent Answers:
• Its topped months ago
• trend is your friend
• With oil down and interest rates down, the market will continue to consolidate but with a downward bias because the dollar is up compromising sales and profits. Trading will be thin, the labor reports on Friday will be bearish, and fears of higher interest rates will return. Anything can happen with NK, NAFTA, trade talks and tariffs creating a wet blanket of uncertainty. This week, the market will be in a "she loves me, she loves me not" attitude.
• wave
• I think the trade deal with China is on very shaky ground, and I don't think North Korea Kim is done messing with us.
• na
• It's just time is up. Nice pullback is eminent.
• Sell in May and go away
• Elliott
• The downside correction will not be complete until their is a selling climax. Just get me out.
• Summer rising rates market toppy
---
Question #4. What sectors/industries are you most excited about for long-term market growth and why?
• tech stocks like AMZN and BABA
• Tech – Great new stuff coming out Financials – They shifting into high gear
• Semiconductors and software.
• healthcare
• Oil
• Tech. and oil . with the exception of AMZN, and in time WMT & TGT retain is dead or will be soon.
• Maxim, Qualcom, Micron for IOT busines and FSLR because of their wide market spread. INSG could be a dark horse here if they can get rid of some of their debt and deliver the 5G and IOT products.
• tech
• Defence
• Healthcare and technology will support the young and aging population. Software and industrials will support our standard of living. Energy is in transition but financials will pay for it all. A strong defense will encourage world survival if not peaceful.
• banking, self driving autos
• Technology Most fluid opportunities
• GOLD!!!
• Probably financial / banking with interest rates expected to continue rising.
• energy-batteries
• Tech sector – That's where the growth is, especially robotics.
• Computer
• Retail, technology.
• oil, and industial – economy looks good
• Google
• industrial & transportation
• Oil and oil-related companies, as well as small-cap companies. A very FEW large-cap companies could be good options.
• Oil going up energy lag will end
---
Question #5. Additional Comments/Questions/Suggestions?
• There is no end to the Dem's opposition and the desire of the left to create an under class of under educated, welfare needing citizens requiring government to survive. People need the dignity of work and the pride of independence to be happy, not free stuff and welfare.
• Google
---
Join us for this week's shows:
---
The Crowd Forecast News show was off today but please join us for Analyze Your Trade!
Analyze Your Trade Episode #36
When you register, you will be prompted to list the top 5 stocks that you are interested in trading. We will list the top 5 from all registrants and our experts will be prepared to offer their opinions on these trades.
Date and Time:
– Tuesday, May 28th, 2018
– 4:30PM ET (1:30PM PT)
Guests:
– Mark Sachs of RightLineTrading.com (first time guest!)
– Christian Fromhertz of TribecaTradeGroup.com
Moderator:
– E. Matthew "Whiz" Buckley of TopGunOptions.com
---
Partner Offer:
See The Hottest Stocks For Free
Did you expect Adobe (ADBE) & Netflix (NFLX) to start roaring higher once the new year began?
Financhill did. Click here to learn more.