Crowd Forecast News Report #252
The new TimingResearch report for the week has been posted, you can download the full PDF report with the link below or you can read the full report in this post below.
Click here to download report in PDF format: TRReport072218.pdf
---
Question #1. Which direction do you think the S&P500 index will move from this coming Monday's open to Friday's close (July 23rd to July 27th)?
(The order of possible responses to this question on the survey were randomized for each viewer.)
Higher: 51.3%
Lower: 48.7%
Higher/Lower Difference: 2.6%
Question #2. Rate your confidence in your answer to Question #2 by estimating the probability you have correctly predicted next week's market move.
Average of All Responses: 65.9%
Average For "Higher" Responses: 67.8%
Average For "Lower" Responses: 64.0%
Higher/Lower Difference: 3.8%
Responses Submitted This Week: 41
52-Week Average Number of Responses: 50.5
TimingResearch Crowd Forecast Prediction: 64% Chance Lower
This prediction is an attempt by the editor of this newsletter to use the full 4+ year history of data collected from this project to forecast a probability estimate for whether this week's sentiment is going to be correct and ultimately what the markets will do this coming week.
Details: Last week's majority sentiment from the survey was 75.0% Higher, and the Crowd Forecast Indicator prediction was 63% Chance Higher; the S&P500 closed 0.45% Higher for the week. This week's majority sentiment from the survey is 51.3% Higher with a greater average confidence from those who responded Higher. Similar conditions have been observed 22 times in the previous 251 weeks, with the majority sentiment being correct 64% of the time, with an average S&P500 move of 0.69% Higher for the week. Based on that history, the TimingResearch Crowd Forecast Indicator is forecasting a 64% Chance that the S&P500 is going to move Higher this coming week.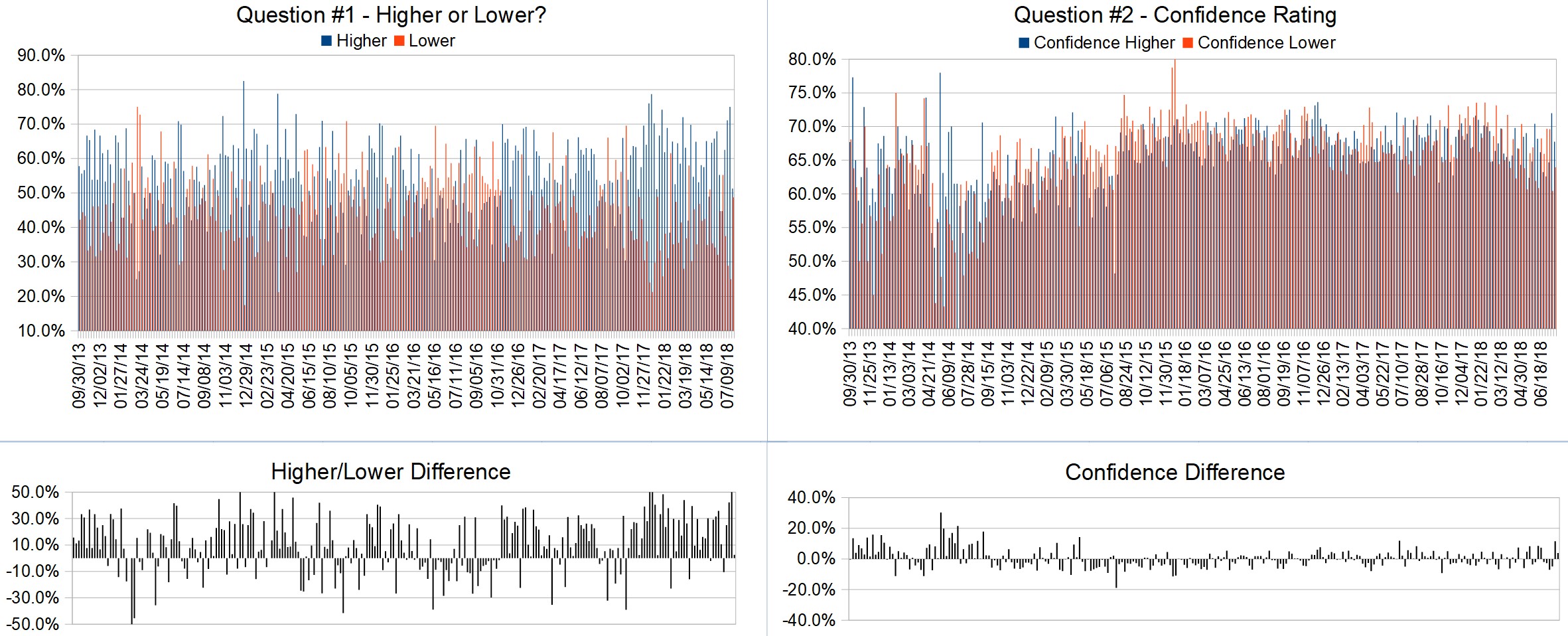 ---
Full Weekly Results (full version of this chart available in the raw data spreadsheet for this week, "Date" field below lists the Monday of the week being predicted).
Overall Sentiment All-Time "Correct" Percentage: 51.0%
Overall Sentiment 52-Week "Correct" Percentage: 54.9%
Overall Sentiment 12-Week "Correct" Percentage: 72.7%
Only the previous 52 weeks of data are shown below, please download the raw data to see the full range of past data.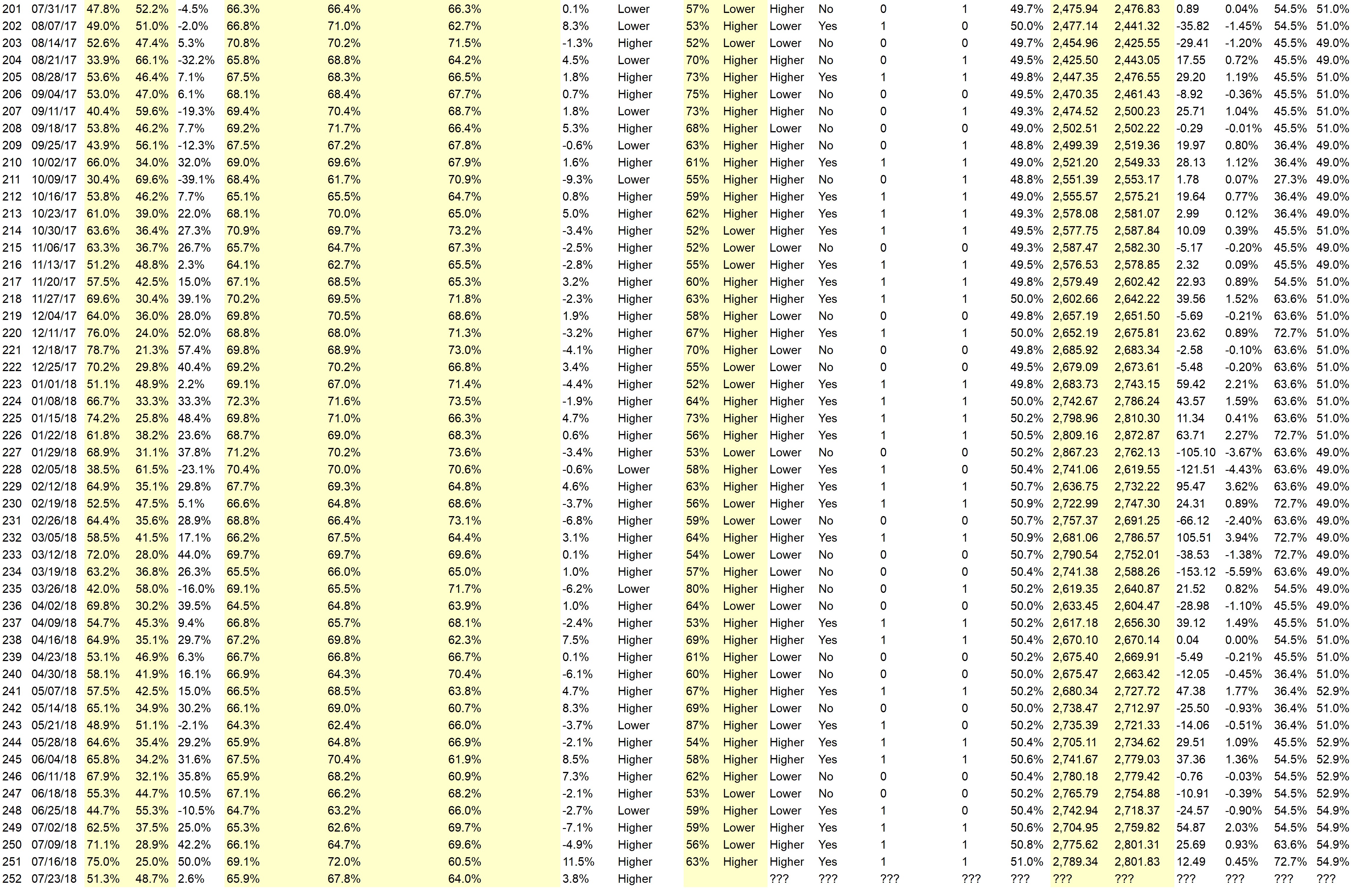 Weekly Reports Page: TimingResearch.com/reports
Raw Data Page: TimingResearch.com/rawdata
Current Survey Page: TimingResearch.com/currentsurvey
Any feedback: TimingResearch.com/contact
---
Email Alerts
Make sure you don't miss all the future reports, show reminders, and bonus offers from TimingResearch, enter your email here:

By signing up you agree to receive newsletter and alert emails. You can unsubscribe at any time. Privacy Policies
---
NOTE: The following open-ended answers are solely the opinions of the anonymous respondents to this survey. Responses are mostly unedited, but some have been reformatted slightly for to make them easier to read. Some irrelevant responses (e.g. "none"), or anything obviously fake, or copy and pasted responses have been omitted. All-caps responses have been changed to all lowercase. All responses for each week, unedited, are available in the raw data spreadsheets at TimingResearch.com/data.
Question #3. For your answer to Question #1, please share what specific reason(s) you think the S&P500 will be heading the direction you chose.
"Higher" Respondent Answers:
• Big names reporting this week with strong earning's reports expected. Underlying market internals looking strong (adv/dec, stocks > 50d ma, etc.). Last couple of weeks have been flat, appearing to establish a baseline (support) for further advancement into earnings.
• Conservative Supreme Court Justice Kavanaugh confirmed today according to the Heretage Foundation email
• less talk of trade war
• Positive Earnings Reports
• Contrary reaction to the latest news.
• good corporate earnings
• History
• Market went sideways this past week after hitting new highs, i.e. no sell-off. Earnings have been strong.
• Earnings
• economyisgreat
• I'm still of the opinion that higher earnings will move the averages a little higher.
• Week should be weak but market will pick up later to end slightly higher
• It's earnings season
"Lower" Respondent Answers:
• Currency war, trade war, shooting next?
• Rising rates
• sems like topping action
• tariffs
• The weakness to overcome the 2820. From Wednesday's decline suggests a slight correction for next week
• big peak on Thursday and immediate selloff
• It is over bought
• Weekly bearish divergence in the S&P emini. Also reached the time and price targets for a wave c completion.
• cycles
• low vix
• Elliott
• Market continues to deteriorate except for the dozen or so favorite stocks.
• potential currency war
• rising interest rates the good news is out
• Trend is short term down. Stochastics falling.
---
Question #4. Between methodology, money management, and psychology which do you think is most important and why?
• MONEY MANAGEMENT!!! A true believer after painful evidence in the past of being 75% correct over a month & still not being profitable. After becoming more disciplined; have had months where I was only around 50% correct (42% one month); but was still profitable.
• Psychology
• probably the only one you can control as an indidividual
• Money Management. No one can predict what the next trade will do. Money management keeps you in the game.
• They are all very important. None can be ignored!
• psychology
• Methodology – primarily, need to have a plan for generating profits.
• Right now I think psychology is having more of an influence on the market. Good corporate earnings help, but there are a lot of other factors weighing on the market. Biggest of which is tariffs. How much of an effect is that going to have on future earnings?
• Methodology and money risk management are both ruled by our psychological make up. Weak on any of these factors we lose so we need all 3 but method and modus is the most critical part.
• Psychology
• Methodology. With the right program, the only money management you need is how to spend it all. That should make you happy.
• Money mgmt lives to fight another day
• money management, no money, no future
• Psychology!!!
• methodology. use what works.
• Methodology. It is a start, then money management
• money management.
• Money Management because if you don't limit your losses, you will be out of the game.
• psychology – people worried about their money
• money mangement methodology are both essential
• Money management is the main skill needed for continuation of trading.
---
Question #5. Additional Comments/Questions/Suggestions?
• Market is never overbought.
• Always stay put
• best seasonal indicators?
• What is in it for me?
---
Join us for this week's shows:
---
Crowd Forecast News Episode #189
This week's show will feature a discussion with the trading experts listed below about the most recent TimingResearch Crowd Forecast Newsletter report, where they think the S&P500 is headed, what they are watching for in the markets currently, and their best trading idea.
Date and Time:
– Monday, July 23rd, 2018
– 1PM ET (10AM PT)
Moderator and Guests:
– Jim Kenney of OptionProfessor.com
– John Thomas of MadHedgeFundTrader.com
– Roy Swanson of SteadyTrader.com
– Mike Pisani of AlphaShark.com & SmartOptionTrading.com
---
Analyze Your Trade Episode #42
When you register, you will be prompted to list the top 5 stocks that you are interested in trading. We will list the top 5 from all registrants and our experts will be prepared to offer their opinions on these trades.
Date and Time:
– Tuesday, July 24th, 2018
– 4:30PM ET (1:30PM PT)
Moderator and Guests:
– Dean Jenkins of FollowMeTrades.com (moderator)
– Larry Gaines of PowerCycleTrading.com
– Christian Fromhertz of TribecaTradeGroup.com
---
Partner Offer:
In 2015, he claimed exactly $838,353 in capital gains. In four years – he turned $15,253 into $2,855,475. Watch Kyle Dennis' presentation:
"Learn the 3-Step Plan I Used to Turn $15,253 into $2,855,475 Trading Biotech Stocks!"