Crowd Forecast News Report #258
The new TimingResearch report for the week has been posted, you can download the full PDF report with the link below or you can read the full report in this post below.
Click here to download report in PDF format: TRReport090318.pdf
---
Question #1. Which direction do you think the S&P500 index will move from this coming Tuesday's open to Friday's close (September 4th to September 7th)?
(The order of possible responses to this question on the survey were randomized for each viewer.)
Higher: 41.7%
Lower: 58.3%
Higher/Lower Difference: -16.7%
Question #2. Rate your confidence in your answer to Question #2 by estimating the probability you have correctly predicted next week's market move.
Average of All Responses: 64.0%
Average For "Higher" Responses: 61.3%
Average For "Lower" Responses: 66.0%
Higher/Lower Difference: -4.6%
Responses Submitted This Week: 38
52-Week Average Number of Responses: 48.1
TimingResearch Crowd Forecast Prediction: 58% Chance Higher
This prediction is an attempt by the editor of this newsletter to use the full 4+ year history of data collected from this project to forecast a probability estimate for whether this week's sentiment is going to be correct and ultimately what the markets will do this coming week.
Details: Last week's majority sentiment from the survey was 66.7% Higher, and the Crowd Forecast Indicator prediction was 65% Chance Higher; the S&P500 closed 0.58% Higher for the week. This week's majority sentiment from the survey is 58.3% Lower with a greater average confidence from those who responded Lower. Similar conditions have been observed 45 times in the previous 257 weeks, with the majority sentiment being correct only 42% of the time, with an average S&P500 move of 0.15% Higher for the week. Based on that history, the TimingResearch Crowd Forecast Indicator is forecasting a 58% Chance that the S&P500 is going to move Higher this coming week.

Raw Data Page (raw data files include full history spreadsheet and the above charts):
TimingResearch.com/data.
---
Full Weekly Results (full version of this chart available in the raw data spreadsheet for this week, "Date" field below lists the Monday of the week being predicted).
Overall Sentiment All-Time "Correct" Percentage: 51.0%
Overall Sentiment 52-Week "Correct" Percentage: 56.9%
Overall Sentiment 12-Week "Correct" Percentage: 63.6%
Only the previous 52 weeks of data are shown below, please download the raw data to see the full range of past data.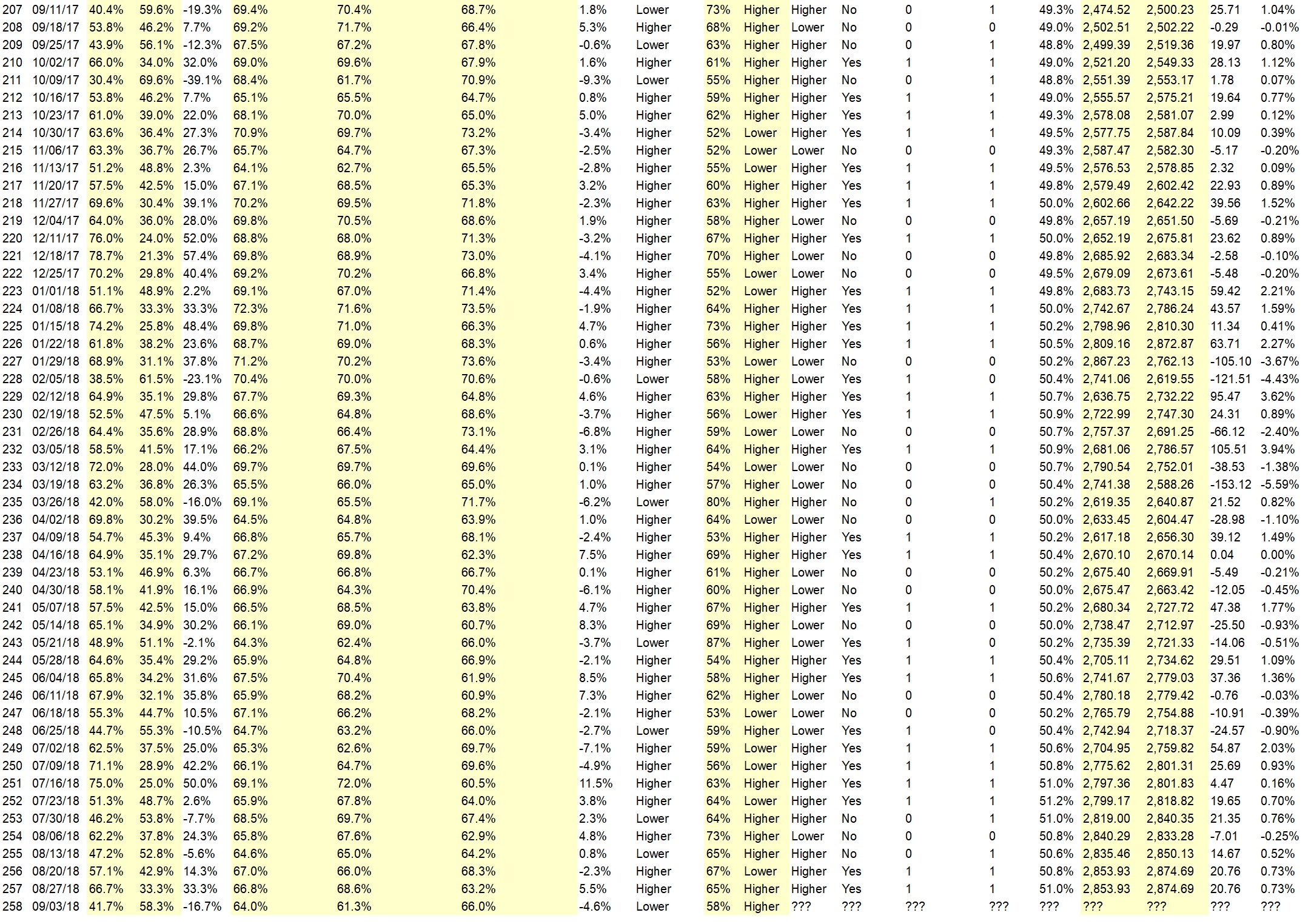 Weekly Reports Page: TimingResearch.com/reports
Raw Data Page: TimingResearch.com/rawdata
Current Survey Page: TimingResearch.com/currentsurvey
Any feedback: TimingResearch.com/contact
---
Email Alerts
Make sure you don't miss all the future reports, show reminders, and bonus offers from TimingResearch, enter your email here:

By signing up you agree to receive newsletter and alert emails. You can unsubscribe at any time. Privacy Policies
---
NOTE: The following open-ended answers are solely the opinions of the anonymous respondents to this survey. Responses are mostly unedited, but some have been reformatted slightly for to make them easier to read. Some irrelevant responses (e.g. "none"), or anything obviously fake, or copy and pasted responses have been omitted. All-caps responses have been changed to all lowercase. All responses for each week, unedited, are available in the raw data spreadsheets at TimingResearch.com/data.
Question #3. For your answer to Question #1, please share what specific reason(s) you think the S&P500 will be heading the direction you chose.
"Higher" Respondent Answers:
• It will dip from tues thru thursday and rally by end of day Friday
• guess
• The market doesn't seem to want to go lower
• New high in Aug, currently just above resistance
• Momentum and seasonality
• vacation is over
• In recent weeks, dips have been bought. Momentum is positive.
• 50% chance
"Lower" Respondent Answers:
• Labor day signals a sell
• High market could be a resistance line mire sells no than buying maybe I guess
• S&P peaking stchastics >80%
• Market is very ouverbought..
• tariffs
• Higher on the week but lower than Tuesday's open because the pent up demand after a 3-day weekend should mean that Tues will open up strong especially now that Mexico is on board & Canada is soon to follow. The NFP will be OK but it's hard to believe that it will be extraordinary. Scary Sept & Oct will retard buying but institutions will be buying back on Tuesday the issues that they sold last week. Still a bullish week but not compared to Tuesday's open. FAANGs will continue to carry the load.
• Continued uncertainty associated with trade issues with Canada, China, Europe, Etc.
• Don't fight the Fed
• Overbought
• Testing Support
• I think the market is peaking at new resistance and is due for a rest and some consolidation.
• It is virtually impossible to predict week to week where the S&P ends up each week. What I'm really saying with my routine "lower" and "50%" response isn't so much what will happen tby this time next wee.. What I am saying is this market is going to turn down and that is the next important event that will inevitably occur and reset the levels at more realistic levels. I will not really bother with being right week to week as a result. I know I'll get it right in the end.
• The market is overbought and due for a downside correction. September is usually a weak month for stock prices.
• I have certain technical; indicators that I follow and they say we are heading south – but I'm first to say this is a likelihood of happening – that's all.
• Instability
• Current high and negativity of the Trade negotiations.
• I don't know where the heck the market is going and therefore rated my confidence at only 50%. Everybody knows it's "overpriced" whatever that means. Yet most seem to believe it will go up to at least 3000. And everybody has trailing stops or buys protective puts or whatever. So it seems everybody is protected even if there's a 20% correction. But it seems nothing can stop this uptrend – unless it's something really drastic and unexpected – maybe. I dunno.
---
Question #4. What trading-related questions or topics would you like the experts to discuss on future episodes of the weekly Crowd Forecast News show? (The show is off this coming week, but back on September 10th.)
• Entry/exit strategies
• All guests should indicate how long they have been professional advisers and what their annual results have been for the period that they have been advising. They also should indicate what makes them superior.
• Isolation of some markets
• options pricing, instead of buying stock, using options to take bull/bear position.
• Competing with algorithmic firms when trading.
• Profit
• Position Size / Money Management
• seasonality and momentum
• fundamental analysis
---
Question #5. Additional Comments/Questions/Suggestions?
• A lot of people like to say that the definition of insanity is doing the same thing over again and expecting different results and if that's true, we have have a lot of people in this country promoting socialism who must therefore be insane.
• Will the economy be better because of a new policy o behalf of TYrump?
• Have all panelists on camera.
---
Join us for this week's shows:
---
CFN is off this week but will be back on September 10th! AYT is still on (details below).
Crowd Forecast News Episode #195
This week's show will feature a discussion with the trading experts listed below about the most recent TimingResearch Crowd Forecast Newsletter report, where they think the S&P500 is headed, what they are watching for in the markets currently, and their best trading idea.
Date and Time:
– Monday, September 10th, 2018
– 1PM ET (10AM PT)
Moderator and Guests:
– Rob Hanna of InvestiQuant.com & QuantifiableEdges.com (moderator)
– Fausto Pugliese of CyberTradingUniversity.com
– Anka Metcalf of TradeOutLoud.com
---
Analyze Your Trade Episode #48
When you register, you will be prompted to list the top 5 stocks that you are interested in trading. We will list the top 5 from all registrants and our experts will be prepared to offer their opinions on these trades.
Date and Time:
– Tuesday, September 4th, 2018
– 4:30PM ET (1:30PM PT)
Moderator and Guests:
– Dean Jenkins of FollowMeTrades.com (moderator)
– Larry Gaines of PowerCycleTrading.com
– Jim Kenney of OptionProfessor.com
---
Partner Offer:
Did you ever think that becoming a professional trader is out of reach? Think again.
Click here to learn how.

TopstepTrader has funded more than 1,800 traders just like you with live trading capital. They take all the risk. You keep the first $5,000 in profits and 80% thereafter.