Crowd Forecast News Report #283
The new TimingResearch report for the week has been posted, you can download the full PDF report with the link below or you can read the full report in this post below.
Click here to download report in PDF format: TRReport022419.pdf
Full web version of the report available below the ad.
---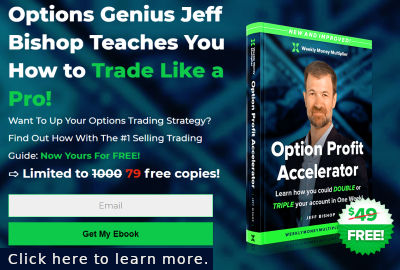 Smooth Markets Never Made a Skilled Investor
I see a lot of panicked traders and worried investors right now. And with good cause because we're not convinced that the turbulence in the markets isn't set to continue for a while.
But there's one guy we know, Jeff, who looks pretty relaxed right now. You see, Jeff's investing approach can pinpoint stocks and profit from them no matter whether the market is soaring or nose-diving.
---
Crowd Forecast News Report #283:
Question #1. Which direction do you think the S&P500 index will move from this coming Monday's open to Friday's close (February 25th to March 1st)?
The order of possible responses to this question on the survey were randomized for each viewer.)
Higher: 52.8%
Lower: 47.2%
Higher/Lower Difference: 5.6%
Question #2. Rate your confidence in your answer to Question #2 by estimating the probability you have correctly predicted next week's market move.
Average of All Responses: 64.4%
Average For "Higher" Responses: 68.7%
Average For "Lower" Responses: 59.7%
Higher/Lower Difference: 9.0%
Responses Submitted This Week: 36
52-Week Average Number of Responses: 41.1
TimingResearch Crowd Forecast Prediction: 60% Chance Higher
This prediction is an attempt by the editor of this newsletter to use the full 5+ year history of data collected from this project to forecast a probability estimate for whether this week's sentiment is going to be correct and ultimately what the markets will do this coming week.
Details: Last week's majority sentiment from the survey was 67.6% Higher, and the Crowd Forecast Indicator prediction was 60% Chance Higher; the S&P500 closed 0.84% Higher for the week. This week's majority sentiment from the survey is 52.8% Higher with a greater average confidence from those who responded Lower. Similar conditions have occurred 101 times in the previous 282 weeks, with the majority sentiment being correct 60% of the time and with an average S&P500 move of 0.29% Higher for the week. Based on that history, the TimingResearch Crowd Forecast Indicator is forecasting a 60% Chance that the S&P500 is going to move Higher this coming week.
Raw Data Page (raw data files include full history spreadsheet and the above charts):
TimingResearch.com/data.
---
AD: Need more capital to trade? Click here.
---
Full Weekly Results (full version of this chart available in the raw data spreadsheet for this week, "Date" field below lists the Monday of the week being predicted).
Overall Sentiment All-Time "Correct" Percentage: 52.2%
Overall Sentiment 52-Week "Correct" Percentage: 58.8%
Overall Sentiment 12-Week "Correct" Percentage: 72.7%
Only the previous 52 weeks of data are shown below, please download the raw data to see the full range of past data.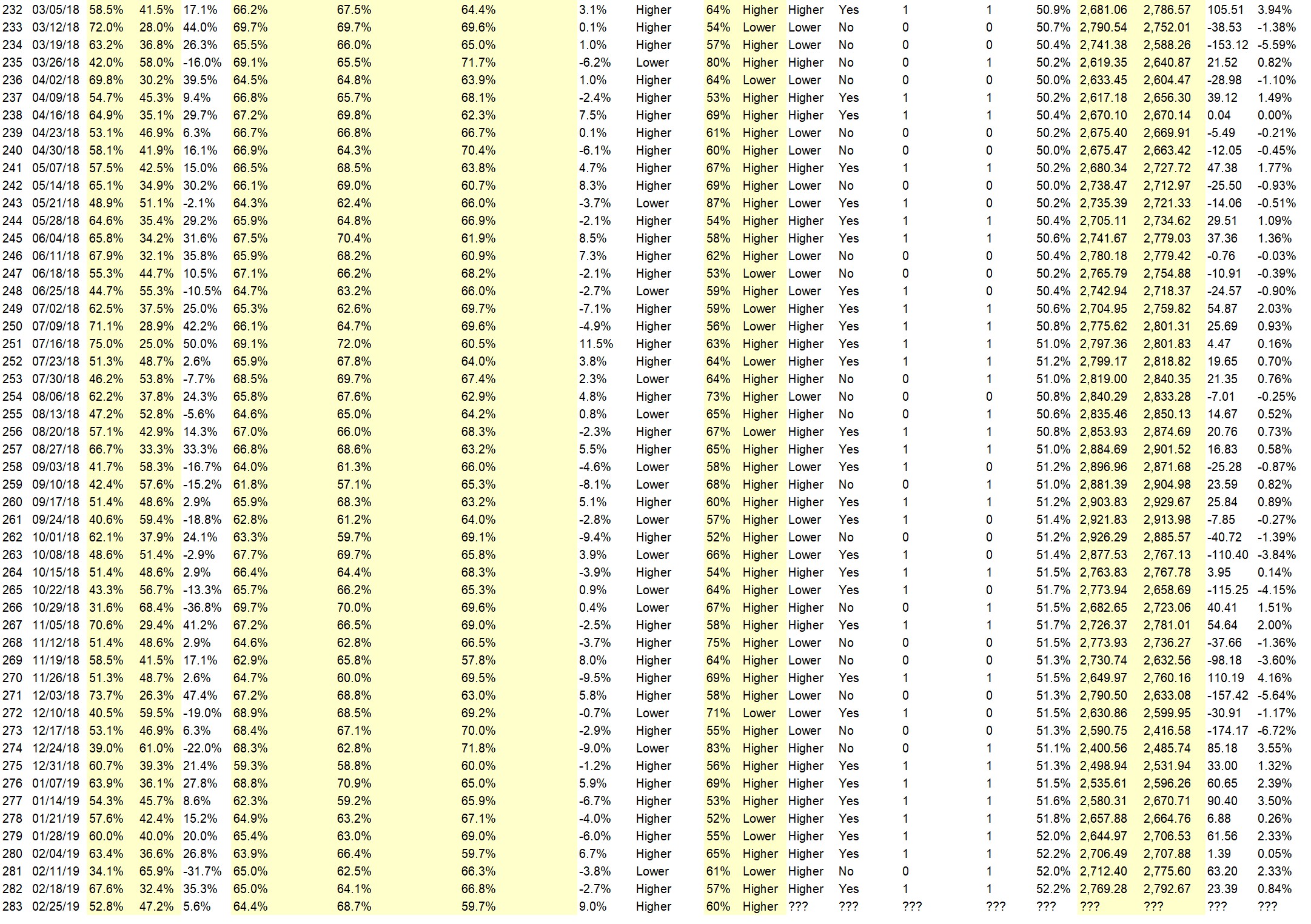 Weekly Reports Page: TimingResearch.com/reports
Raw Data Page: TimingResearch.com/rawdata
Current Survey Page: TimingResearch.com/currentsurvey
Any feedback: TimingResearch.com/contact
---
Email Alerts
Make sure you don't miss all the future reports, show reminders, and bonus offers from TimingResearch, enter your email here:

By signing up you agree to receive newsletter and alert emails. You can unsubscribe at any time. Privacy Policies
---
NOTE: The following open-ended answers are solely the opinions of the anonymous respondents to this survey. Responses are mostly unedited, but some have been reformatted slightly for to make them easier to read. Some irrelevant responses (e.g. "none"), or anything obviously fake, or copy and pasted responses have been omitted. All-caps responses have been changed to all lowercase. All responses for each week, unedited, are available in the raw data spreadsheets at TimingResearch.com/data.
Question #3. For your answer to Question #1, please share what specific reason(s) you think the S&P500 will be heading the direction you chose.
"Higher" Respondent Answers:
• time to go bull
• china issue will be avoided
• Follow the trend
• Momentum and the Fed kicking the can down the road
• Momentum
• because I have some puts on.
• momentum
• The market appears healthy as it nears 2800. If the China trade talks look positive, a move above 2800 is expected to hold, and continue to resistance at 2880+.
• China deal will be done which will be favorable to the S&P.
• improved momentum R2K
• Public attitude seems "at ease."
• Looks like we broke through the 200 & 50 dma and new highs may continue.
"Lower" Respondent Answers:
• fridays jump left a gap to fill
• pullback
• It is at a critical Resistance level
• Volatility appears to ready to break to the upside, which will most likely precipitate a drop in the S&P 500.
• elliott wave
• Market is overbought. Lack of Chinese agreement will result in selling disappointment.
• Overbought @ resistance retest 200dma
• Market momentum slowing
• Market overbought. New employment numbers this week may dissappoint due to adverse weather events. Also we are up against resistance at 200 day averages
• Back to some resistance
• Lot of news is awaited, and markets will be volatile
• This very unusual buy climax can't last forever.
---
AD: Need more capital to trade? Click here.
---
Question #4. What indicator influences your trading the most?
• Trade. Oil
• Stochastics
• FED
• Price of SPY
• RSI
• MAs
• pivot points
• macd
• world events
• MACD
• I should just find one or two and stick with it!
• elliott wave
• Price activity
• Channels; Support/Resistance
• Volume
• trix
• S&P resistance and support levels, as well as resistance and support levels of individual stocks.
• Contrarian
• Moving averages Especially the 200Day and 50 Day
• Wave 2 to the upside. Next…wave 3 down
• 200 day EMA
---
BONUS: What year do you think recreational cannabis use will be federally legalized in the United States?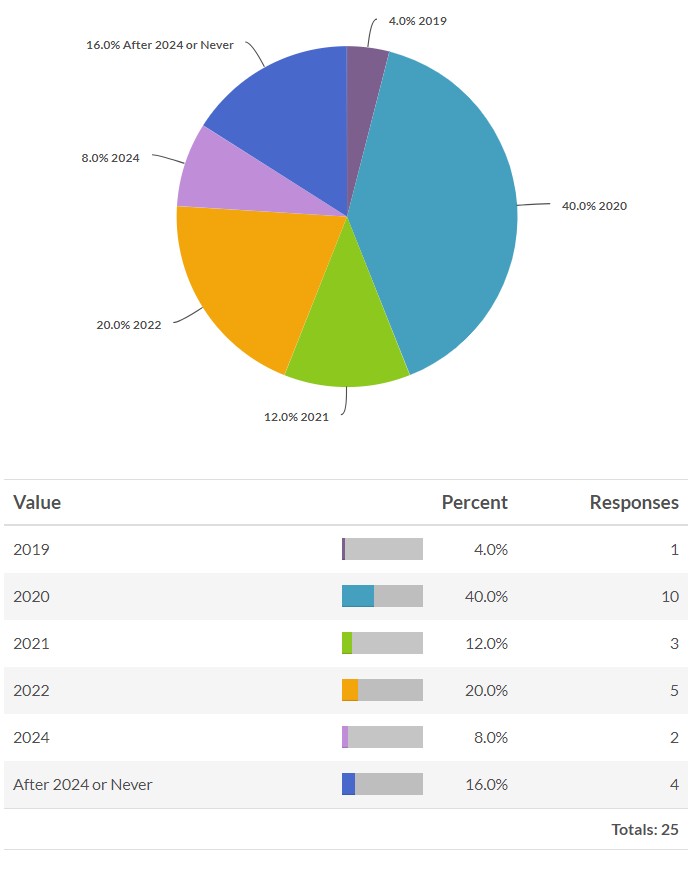 ---
Question #5. Additional Comments/Questions/Suggestions?
• How about a table of who is making the best predictions.
• Unless the dumb o rats take control
---
AD: Need more capital to trade? Click here.
---
Join us for this week's shows:
---
Crowd Forecast News Episode #214
This week's show will feature a discussion with the trading experts listed below about the most recent TimingResearch Crowd Forecast Newsletter report, where they think the S&P500 is headed, what they are watching for in the markets currently, and their best trading idea.
Date and Time:
– Monday, February 25th, 2019
– 1PM ET (10AM PT)
Moderator and Guests:
– Mark Sachs of RightLineTrading.com
– Gary Dean of SentimentTiming.com
– Jim Kenney of OptionProfessor.com (moderator)
---
Analyze Your Trade Episode #67
When you register, you will be prompted to list the top 5 stocks that you are interested in trading. We will list the top 5 from all registrants and our experts will be prepared to offer their opinions on these trades.
Date and Time:
– Tuesday, February 26th, 2019
– 4:30PM ET (1:30PM PT)
Moderator and Guests:
– Jerremy Newsome of RealLifeTrading.com
– John Thomas of MadHedgeFundTrader.com
---
AD: Need more capital to trade? Click here.